Sprue Bushings Information
Sprue bushings are hardened-steel mold components that accept an extrusion nozzle and provide the opening used to transfer molten plastic to the mold cavity. They help reduce cooling times and produce more rigid sprues. Rigidity is important since the sprue is often the point at which pickers or other industrial robots grasp molded parts for removal.
How Sprue Bushings Are Used
This video illustrates how a sprue bushing is inserted into a clamp plate and ground flush with the parting line. The sprue bushing and the mating nozzle must have equal radii to create a proper seal.
Video credit: TrainInteractive
Types
The IHS Engineering360 SpecSearch database defines two types of sprue bushings: cold and hot.
Cold sprue bushings are inserted into the mold and provide achannel between the molding machine nozzle and the mold cavity.They are unheated and leave a sprue that must be removed, often by a secondary operation, if appearance is a consideration.There are two important dimensions on thenozzle end of the bushing: the"O" dimension hole opening, and the spherical radius.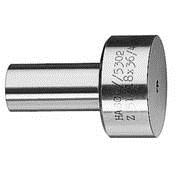 Image Credit: Hasco
Hot sprue bushings areinserted into the mold and provide a hot channel between the molding machine nozzle and the mold cavity.A heating element contained within the bushingis used tokeep the resin melt hot within the bushing.

Image Credit: DME Company
Product and Performance Specifications
Sprue bushings typically have a spherical radius of .50" or .75"; however, flat-type bushings that have a flat surface instead of a nozzle radius are also available. There are several other dimensions that buyers need to specify.
Tip hold diameter (commonly referred to as the "O" dimension) is the diameter of the inlet hole on the nozzle seat. This is the hole that mates to the nozzle tip and where the material enters the sprue bushing. The tip hold diameter may also be referred to as the gate diameter, or as the melt passage diameter.
The overall length of the sprue bushing does not include the nozzle.
The shank length is measured from the underside of thebushing head to the end of the sprue bushing. Like the overall length, this measurement does not include the nozzle.
Materials
Sprue bushings are often made of hardened steel or a copper base alloy. They may also be lined with carbide for wear and corrosion resistance, and fast heat transfer rates. Carbide-lined sprue bushings are well-suited for use with abrasive resins.
Resources
Hot Sprue Bushing Selection Guide
Image Credit: DME Company