Balers Information
Balers use a compressing force, often provided by a hydraulic cylinder, to reduce the size of waste materials and form them into a regular, easily handled shape (most often a square or rectangle). When a baler is full to capacity, an operator must belt the bale with straps or wires to ensure that it maintains its shape after ejection from the machine.
The image below illustrates the important components of a hydraulic vertical button control baler. To create a bale, an operator slides the safety gate up in order to load waste material into the baler. When the volume of waste material reaches the bottom of the ram, the operator closes the safety gate and turns the bale on, which causes the hydraulic cylinder to depress the ram and compress the material. After this process has been repeated enough times to create a sufficiently large bale, the operator opens the bale chamber door, belts the bale, and ejects it (using an ejector driven by a chain, bar, or separate hydraulic cylinder) onto a pallet, cart, or other easily-transportable object. The bale can then by moved away to be transported off-site or disposed of or recycled in some other manner.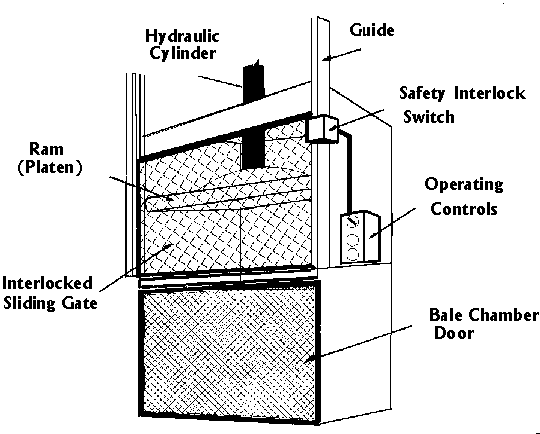 Image credit: CDC / NIOSH
The use of a baler saves space, time, and money for companies which deal with large quantities of waste material. Because balers compress the volume of waste, they allow for more efficient waste transportation and storage.
Types
Balers can be classified according to several different attributes, including waste material, orientation, operation method, and belting method.
Material to be Baled
Balers are typically used to bale paper and fiberboard, but specialized machines may also include special features or design attributes depending upon the type of material to be baled. The table below describes these attributes. Baler materials not listed below include biomass, laboratory waste, and plastics.
| | | |
| --- | --- | --- |
| Baler waste material | Special features | Image |
| Bottles / cans | Plastic bottle balers are typically taller and have large compression chambers due to the large compaction ratio of plastic bottles. | |
| Metals | Frequently equipped with multiple cylinders for three-dimensional compression. | |
| Rubber / tires | Must include an anti-bound device to prevent material bounch-back after compression. | |
| Textiles | Typically include a four-sided door to prevent friction between textiles and baler walls. | |
Image credit: Sinobaler | Granutech | Eagle Equipment | DirectIndustry
Machine Orientation
Balers may be classified as vertical or horizontal. Vertical balers are relatively simple machines consisting — as shown above — of a compression chamber, a hydraulic ram, and some type of control system.
Horizontal balers are typically larger and more complicated than vertical ones and often feature adjustable bale sizes, bale counters, automatic baling, and other automation features. They may be programmable logic controlled (PLC) and are usually loaded using a bulk material hopper.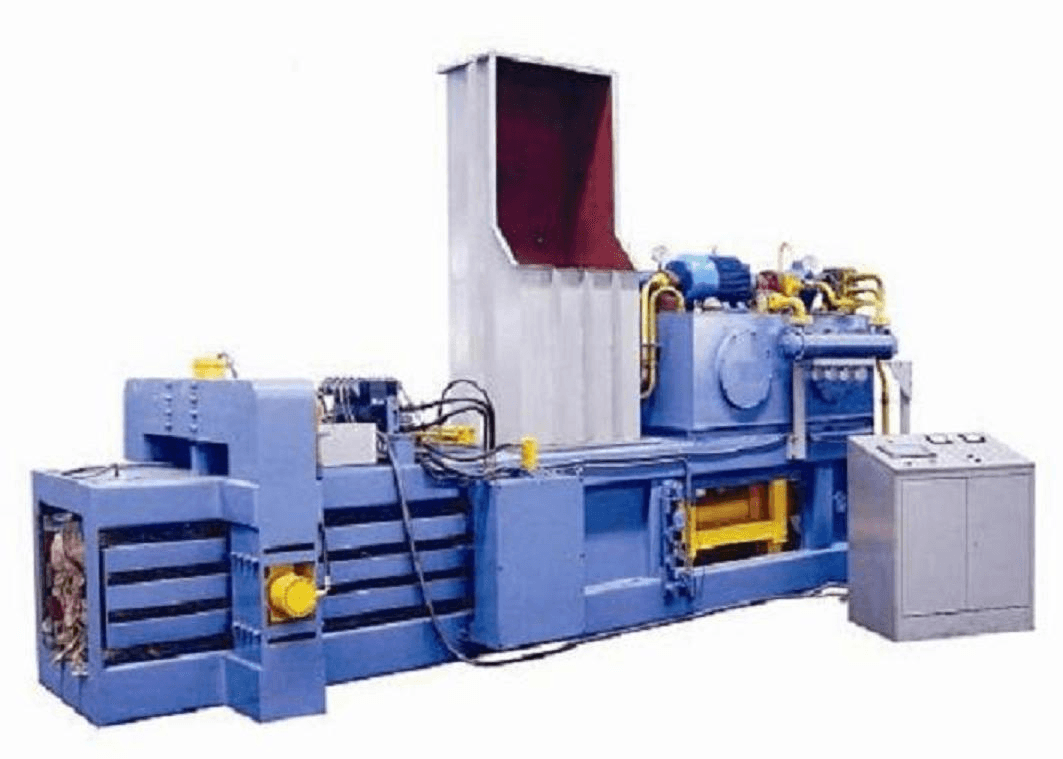 A PLC-controlled horizontal baler. This machine features adjustable bale length, integral bale cutting knives, and hopper extension.
Image credit: Made-in-China
Standards
Balers and baling equipment may be manufactured, tested, and used according to various standards. Examples of baler standards include:
ASABE S229 - Baling wire for automatic balers
References