Brazing Equipment Information
Brazing equipment includes systems, components, or tools involved in brazing operations.
Brazing is a materials joining process similar to welding; the American Welding Society (AWS) formally considers it a sub-process of welding. Brazing uses a filler alloy with a liquidus (the temperature above which it is purely liquid) greater than 450° C and below that of the base materials' solidus (the temperature below which a substance is completely solid). The process joins two base pieces by melting a filler metal between them, and without melting the workpieces themselves. In this respect it is distinct from welding, which typically melts two workpieces together.
Brazing is one of the most versatile metal joining processes. Because the workpieces are not melted, as in welding, they retain their original shapes and metallic characteristics. Brazed joints are strong, repel environmental contaminants, and have a clean, well-finished appearance.
Process Description
The heat required for a brazing operation is provided by a handheld torch, furnace, or induction heating system. In specialized dip and resistance brazing, heat is provided by a flux coating or the resistance between the workpieces, respectively.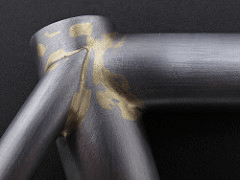 Most brazing processes follows steps roughly like the ones listed below.
Workpiece spacing - Joint spacing is essential to the brazing process. Smaller workpiece spacing results in a stronger joint; optimal spacing is typically around 0.001 to 0.005 inches. Spacing that is too large or too small may disrupt the capillary action necessary to draw the filler metal into the joint during the heating process.
Alloy selection - Silver, copper, and aluminum are common filler alloys, and typically come preformed or as a stick or paste.
Joint cleaning - The joint is cleaned of any rust, oil, dirt, grease, or other contaminants using solvents, chemical baths, or wire brushes.
Add flux or determine atmosphere - A joint must be well-protected during a brazing operation. Open-air brazing involves adding a flux coating to the joint to prevent oxidation and protect the braze alloy. Brazing in a protective atmosphere comprised of nitrogen, hydrogen, or dissociated ammonia eliminates the need for flux.
Positioning - The parts are carefully positioned using support devices such as clamps, vises, and weights. Supports must be poor conductors and have compatible expansion rates so the parts will not be disturbed.
Heating - Brazing occurs at temperatures ranging from approximately 800° F to 2000° F. Localized heat is typically applied to the side opposite the filler metal, as the filler will flow toward the area with greater heat. This method ensures a uniform spread of the filler alloy.
Additional cleaning - Joints not brazed in a controlled atmosphere must be cleaned of corrosive flux residue using a hot water quench or an acid bath.
Process Types and Equipment
The heating method for a brazing operation largely determines the equipment required.
Torch brazing is a popular choice due to its low capital investment and is ideal for joining small pieces in low-volume production environments. Torches (like the one shown at right) are gas-powered and should ideally produce a bluish-white flame with a bluish to orange tip, as colorless tips can cause oxidation. Joint quality is subject to operator consistency and experience.

Furnace brazing is easy to automate and is popular for higher-volume production. It is impractical if the filler alloy cannot be pre-positioned before heating. Furnaces must remain on at all times to avoid long start up and cool down times.
Induction brazing uses coils to heat parts more precisely than a furnace and typically uses silver-based alloys. It is consistent, clean, and capable of selective heating and tight tolerances due to its localized heating.
Dip or hot dip brazing involves immersing the entire part in a molten bath of filler alloy. The bath acts as the heat source, wetting the filler and causing it to flow into the joint. Excess filler simply runs off into the bath. Aluminum parts are particularly well-suited for dip brazing.
Resistance brazing involves passing electric current through the workpieces, resulting in resistance heating which melts the filler alloy and joins the workpieces.
Laser brazing uses a laser to heat a workpiece and melt the filler.
Brazing equipment may be packaged as a complete system, and individual components such as torches or guns, controllers, and power sources may also be separately available.
Applications and Uses
A number of factors—including joint strength, process cost and joint shape—should be considered when choosing a metal joining technique. The table below compares characteristics of five joining methods, including brazing.
| | | | | | |
| --- | --- | --- | --- | --- | --- |
| | Mechanical bonding | Adhesive bonding | Soldering | Welding | Brazing |
| Cost | Excellent | Good | Good | Fair | Good |
| Strength | Fair | Fair | Good | Excellent | Excellent |
| Energy Used | Excellent | Good | Good | Fair | Good |
| Control | Fair | Fair | Good | Excellent | Excellent |
| Flexibility | Fair | Fair | Good | Good | Excellent |
Brazing is the preferred process for plumbing fixtures, tools, construction equipment, and many consumer products. It is well-suited for automated processes, joining of dissimilar metals, and manufacturing two-piece parts once produced as monolithic, one-piece units.
Standards
Brazing equipment and processes may be governed by published standards. Example standards include:
References
GH Group—Brazing guide (pdf)
Lucas Milhaupt—Proper brazing procedure
Image credit:
Phil Gradwell/CC BY 2.0 | Kendelarosa5357/CC BY-SA 3.0 | ESAB