Reach Stackers and ISO Container Handlers Information
Reach stackers and ISO container handlers are material handling vehicles that transport intermodal containers. They provide short-distance transport for containers transferred to and from fleets, vessels, or railcars at ports, railyards, or other storage terminals.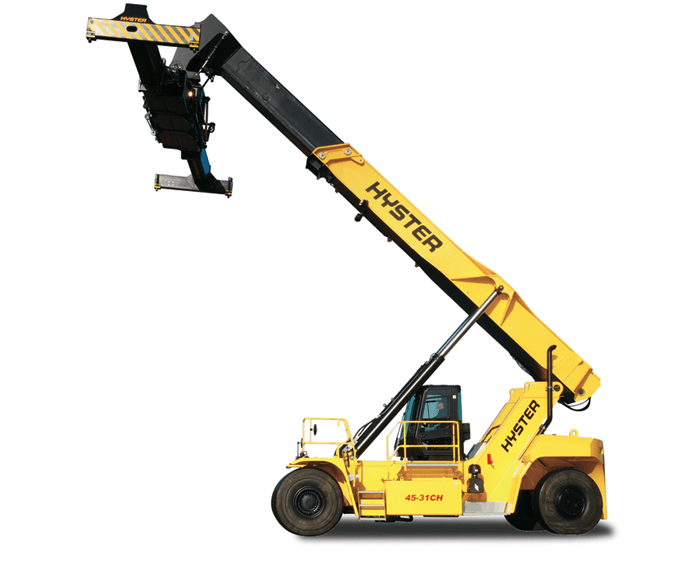 Intermodal containers are manufactured according to International Organization for Standardization (ISO) specifications and are also referred to as ISO containers. ISO containers meet size, strength, and durability requirements as well as dimensional standards that allow for increased storage capacity and logistics optimization. More information about ISO containers can be found in Engineering360's ISO container specification guide.
Types
The terms reach stackers and ISO container handlers generally differentiate two distinct but closely-related types of industrial trucks.
Reach stackers have a telescoping boom that allows for an extended horizontal reach. These booms can be equipped with attachments that best interface with the ISO containers being transported. They are preferable to ISO container handlers when storage capacity needs to be maximized. Reach stackers offer the ability to stack containers multiple rows deep.
ISO container handlers have a forklift attachment that only extends vertically. They are more versatile than reach stackers since they can lift and transport a wider range of containers and cargo. Container handlers also offer quicker loading and greater selectivity. The vehicle's lack of horizontal reach prevents it from stacking more than two rows deep. This limits the number of "dead picks" (i.e. containers with restricted access). Loaded container handlers may be further classified as empty container handlers or laden container handlers.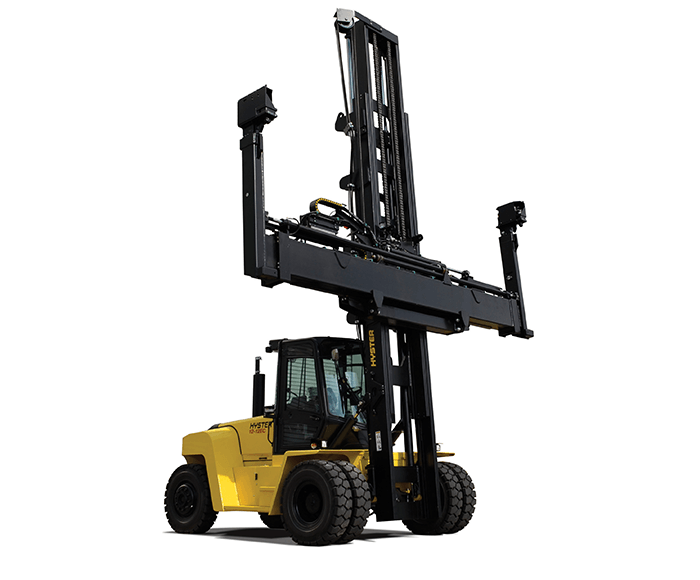 Laden container handlers are slightly larger with an increased lifting capacity suitable for lifting and transporting fully-loaded ISO containers.

Empty container handlers are smaller with a lower capacity rating and are only suitable for transport of empty ISO containers.
Design Specifications
Reach stackers are specified by their lifting capacity, wheelbase, reach, and turning radius.
Lifting capacity is the maximum force or load supported by the lift, cart, truck, or dolly.

Wheelbase is the distance between the front and rear axles of a vehicle.

Reach is the difference between the fully-retracted and fully-extended positions of the lift or boom.

Turning radius is the radius of the smallest circle the vehicle is capable of making.
Standards
BS ISO 3874—Both loaded and empty freight containers. Includes a series of charts showing the applicability of the various lifting methods to the different container types.
ISO 22915-12—This part of ISO 22915 specifies the tests for verifying the stability of industrial variable-reach trucks when handling empty or laden freight containers of 6 m (20 ft.) length and longer.
References
Image credit: