Thick Film Materials Information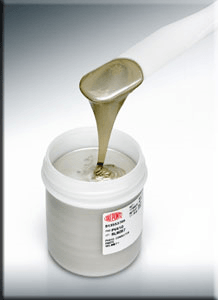 Thick film materials are metal conductor pastes or dielectric ceramic pastes. They are screen printed and fired to produce circuits, resistors, capacitors, and interconnects for electronic devices on ceramic substrates.
Thick film paste is a viscous mixture composed of active ingredients, adhesive agents, binding agents, and a solvent or thinner. The binder and thinner together are referred to as the vehicle, as they act as the transport mechanism carrying the active element and adhesive agent to the substrate.

Active Ingredients and Process

The active ingredient is fired and cured to the substrate in order to produce a thick film with conductive, resistive, or insulating properties. Conductive elements used in thick film printing include noble or precious metals, although aluminum and copper can be screen printed in a controlled atmosphere. Resistive elements include metal oxides as well as specialized polymer coatings. They are a wide range of dielectric materials that can be used as barrier materials or insulators. Specialized materials include those used for specific applications such as photovoltaics.

The paste is screen printed to the substrate using a mesh screen that acts as the stencil or mask. In order to cure the material to the substrate the circuit must be fired or sintered. Exposure to a controlled temperature for a set time results in the formation of a fixed, cohesive film.
Resources
Resistors Guide—Thin film vs. thick film
University of Bolton—Thick film technology
Image credit: