Labyrinth Seals and Clearance Seals Information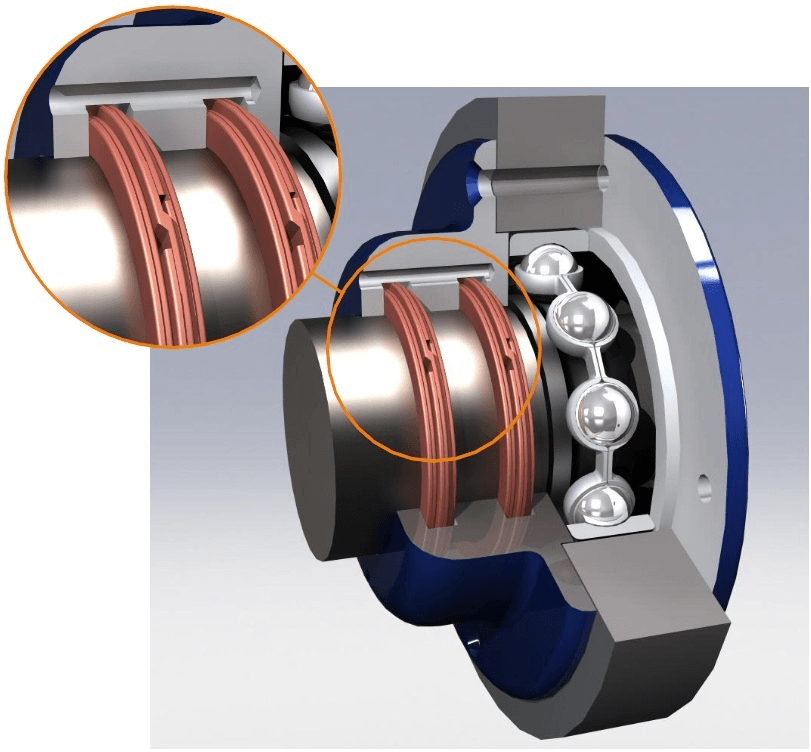 Labyrinth seals and clearance seals are minimum-leakage seals that protect machine elements from contamination through a noncontact method. They operate on the principle of positive clearance and do not rub on shafts or housing.
Features
Labyrinth seals often use a series of noncontact metal rings or other means to form a labyrinth that makes it challenging for unwanted debris to pass through, while keeping necessary lubricants in. Clearance seals are often referred to as floating labyrinth seals. The design of clearance seals has precise control over the clearance between the rotating shaft and the inside diameter of the seal ring. Unlike single lip seals, grooves within labyrinth seals and clearance seals act as individual lips and distribute pressure all across the seal instead of in just one area. Teeth configuration options are available for labyrinth seals and clearance seals including interlocking, stepped, staggered, angles, one piece, split halves, or eight-piece varieties.
Specifications
There are many different styles of labyrinth seals and clearance seals. Many labyrinth seals are comprised of a rotor (rotating) and stator (stationary) member with a radial gap between the two members. The gap must be larger than the radial clearance of the bearing being sealed. When choosing labyrinth seals and clearance seals, the operating speed and temperature must be considered. These seals generally do not perform well at low operating speeds. Another form of labyrinth and clearance seals is a laminar sealing ring, which uses a series of flat metal washer-like rings of varying diameters to create a labyrinth seal.
Labyrinth seals and clearance seals:
reduce friction
maintain low operating temperatures
experience little-to-no wear when maintained
operate at high speeds
have a long service life
Labyrinth seals and clearance seals are often available in aluminum, bronze, steel, or plastic materials like PTFE. They are often used in high-speed and high-temperature applications including in centrifugal compressors and gas turbines.
Related Information
CR4 Community—Labyrinth Seal (Tolerance per Inch of Shaft for Oil Seal)
Engineering360—Dynamic Seals Information
Image credit:
Smalley Steel Ring Co / CC BY-SA 2.5