From
Ship Stability for Masters and Mates, Sixth edition – Consolidated 2006
Recapitulation
The TPC is the mass which must be loaded or discharged to change the ship s mean draft by 1cm. When the ship is floating in salt water it is found by using the formula:
where
WPA = the area of the water-plane in sq. metres
The area of the water-plane of a box-shaped vessel is the same for all drafts if the trim be constant, and so the TPC will also be the same for all drafts.
In the case of a ship the area of the water-plane is not constant for all drafts, and therefore the TPC will reduce at lower drafts, as shown in Figure 8.1. The TPCs are calculated for a range of drafts extending beyond the light and loaded drafts, and these are then tabulated or plotted on a graph. From the table or graph the TPC at intermediate drafts may be found.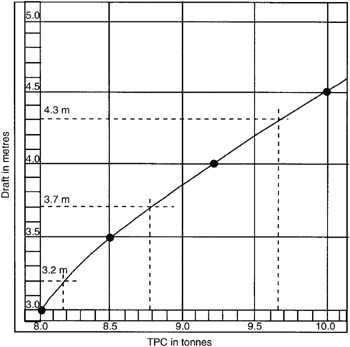 Fig. 8.1
TPC Curves
When constructing a TPC curve the TPCs are plotted against the corresponding drafts. It is usually more convenient to plot the drafts on the vertical axis and the TPCs on the horizontal axis.
Construct a graph from the following information:

| | | | | |
| --- | --- | --- | --- | --- |
| Mean draft (m) | 3.0 | 3.5 | 4.0 | 4.5 |
| TPC (tonnes) | 8.0 | 8.5 | 9.2 | 10.0 |

From this graph find the TPCs at drafts of 3.2m; 3.7m; and 4.3m.

If the ship is floating at a mean draft of 4m and then loads 50 tonnes of cargo, 10 tonnes of fresh water and 25 tonnes of bunkers, whilst...
Copyright Elsevier Inc. 2006 under license agreement with Books24x7
---
Products & Services
---
Topics of Interest