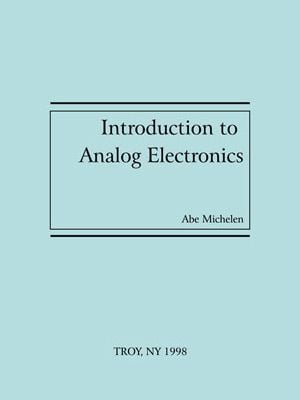 This book is designed for students who are taking their first course in analog electronics in either a two-year or four-year program. The prerequisites are a DC-AC course; a basic knowledge of algebra, including the ability to solve simultaneous linear equations; and a strong knowledge of trigonometry. The main topics in this book provide an introduction to the most important semiconductor devices: how they are built, how they operate, and how they are used in larger electronic modules.
It is important to understand how little the fundamental principles of electronics have changed over time. Nowadays, devices are remarkably fast and systems are getting smaller every day. Yet if we take a moment to consider that most of these devices were invented more than 70 years ago, we find that the underlying progress associated with today's technology is primarily an improvement in construction techniques, better packaging to improve interconnections, increased speed, and use in new applications. Today, a transistor behaves according to the same principles as when, on the afternoon of December 23, 1947, Shockley, Bardeen and Brattain invented the first such device at the Bell Telephone Laboratories in New Jersey.
This book also provides an introduction to the study of semiconductor devices such as PN-junction diodes, bipolar junction transistors (BJT), field-effect transistors (FET), and metal-oxide semiconductor field-effect transistors (MOSFET). Students will learn about performing an analysis of DC, transistor biasing, small-signal single and multi-stage amplifiers (using BJTs, FETs, and MOSFETs), and the frequency response of transistors for single-stage and multi-stage amplifiers.