About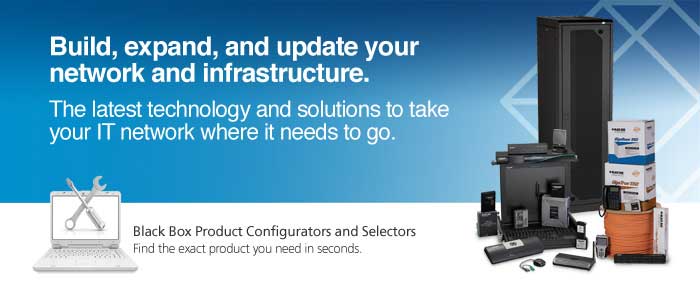 Black Box is a leading technology product solutions provider that helps customers build, manage, optimize, and secure their networks. The company is a single source for cabling, cabinets and racks, data comm, digital signage, infrastructure, KVM switching, networking, security, wireless, and more. Black Box is ISO 9001:2008 certified and has received numerous industry recognitions for its product innovations.
A hallmark of the company since its founding in 1976 is its free, 24/7 pre- and post-sales technical support. Customers can call, chat, or e-mail questions and a Black Box technical support engineer will respond within 30 seconds.
Black Box is known in the industry as the place to go for custom and hard-to-find products and solutions. The company specializes in custom cables and adapters and manufactures more than 150,000 of them every year. In addition, Black Box pre-sales engineers work with customers to develop one-of-a-kind networking, communications, and video solutions based on their specific applications.
Black Box specializes in one-to-one customer service and offers same-day shipping, 45-day no-questions asked returns, and its exclusive Double Diamond™ warranties. It also offers an extensive range of white papers, tutorials, case studies, videos, and more on its website under Resources and in its catalogs.
Supplier Directory Categories
Black Box is also listed in these categories:
Technical Articles