Profile Home
About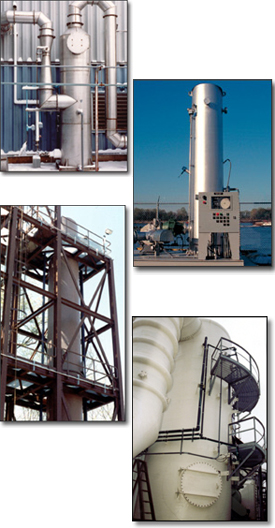 Branch Environmental supplies custom built pollution control equipment for industry.

Branch Environmental's air pollution control equipment can clean up acids, organics, aerosols and mist to meet any emission control standards. Their equipment is also used for water treatment, including removal of volatile organics, ammonia and other gases.

Wet Scrubbers
Wet Scrubbers have been used on a variety of applications. Their ability to remove both solids and gases makes them suited to handle difficult applications.

Oxidizers
Where insoluble organic vapors are present, Scrubbers will not work. Such vapors can be removed by thermal destruction. The result is usually harmless gases including water and carbon dioxide. Branch supplies Oxidizers which are used to destroy organics. Various designs are available including catalytic, thermal, and RTO.

Air Strippers
For ground water or wastewater cleanup. Trace organics can be stripped out of the water by air moving countercurrent to the water. Air Strippers come in several configurations. They can be provided as part of a package with vapor phase control, if necessary. Branch Environmental is the leading supplier for ammonia strippers used in removal of ammonia from wastewater.

NOx-SCR
The removal of oxides of nitrogen (NO/NO2) is a unique problem because of the difficulty. Their selective catalytic reduction system uses ammonia to react with the NOx resulting in nitrogen and water. Alternative systems using wet scrubbing are also available.

Mist/Aerosols
Where difficult to remove aerosols are present in the air, a Fiberbed mist eliminator maybe the answer. Fiberbeds are able to remove oil mist and smoke sized droplets from air.

Aeration Columns
They design and build custom fabricated mass transfer equipment for gas absorption and removal. The most common type of aeration devices they provide are:
Packed Columns for either absorbing or stripping gases.
Tray Columns.
Technical Articles

Ammonia Stripping Explained
(Filtration and Separation Products)
In the stripper, the pH and temperature are adjusted before the water enters the stripper. As the water is distributed over the internal packing media, it is broken up into small droplets which create... (
View Full Article
)

How does SCR work
(Filtration and Separation Products)
How does SCR work? Catalysts perform by lowering the temperature required to allow a chemical reaction to occur. In this case, a reduced nitrogen compound (ammonia or urea) is introduced into the air. (
View Full Article
)