Profile Home
About
Contact an Everlube product specialist today for your personalized solutions!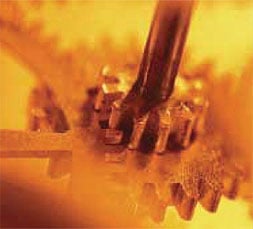 Engineered coatings enhance the performance of countless products, devices, equipment, and components used in our everyday lives. They're in our homes, automobiles, and work places. They're used on the aircraft we fly, by the railroads we ride, and by the armed forces that protect us. Everlube Products' customers specify them because they provide the solid film lubrication, corrosion protection, wear resistance, electrical insulation, electromagnetic shielding, or static discharge control that make things work and work better.
Everlube Products is an innovator and leader in the field of dry film lubricant and engineered coating development. Knowledgeable engineers depend on these coatings to enhance their products' performance. When faced with engineering problems, they rely on Everlube Products' technical services team for solutions to speed up the product development cycle, lower costs, overcome design obstacles, and avoid costly redesigns when equipment performance requirements change. Everlube Products has been involved in the application development of coatings since 1953 and is a recognized pioneer in solid film and dry film lubricating products and engineered coatings.
Everlube Products' longevity can be attributed to rigorous standards for quality, part to their advanced research facilities, and part to the veteran coating engineers on the technical services team whose years of experience ensure the right product recommendation for every application.
As a leader, Everlube Products takes environmental responsibility seriously. Low VOC products help ensure that when you work with Everlube Products, you're helping to keep the environment clean.
Following are a few of the reasons Everlube Products is unique in the engineered coating industry:
Skilled engineered coating professionals.
More than 55 years in the engineered coatings business.
Numerous engineered coatings that serve virtually every industry.
Application services support.
PTFE, Graphite, Molybdenum Disulfide and Tungsten Disulfide based coatings that solve a wide variety of design engineering concerns.
Enhancing product performance, providing engineering solutions, and making things work better through the use of engineered coatings are what Everlube Products is all about.
Everlube® Products Retains NSF/ANSI 61 Approval for Everlube® R-75 Black.
Technical Articles