About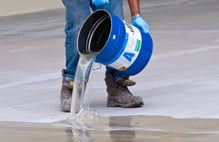 When moisture vapor levels challenge the warranty limitations of high quality flooring products, KOSTER has the complete system. The KOSTER VAP I® resins were specifically formulated to cure under extreme moisture vapor conditions and remain unaffected by high levels of alkalinity.
KOSTER's true one-coat systems are easy to apply, V.O.C. compliant, have little to no odor, and allow flooring to be placed after a 12-hour cure.
KOSTER American Corporation's Products Include: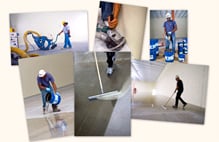 VAP I® 2000 - A one-coat, 100% solids, epoxy-based moisture vapor reduction system.

VAP I® 2000 FS - A 2-component, one-coat, VOC Compliant, Low viscosity, 100% Solids Epoxy used as a Vapor Barrier against high moisture and alkalinity in concrete substrates. Cures in 4 hours.
VAP I® pH - A water-based epoxy system for the reduction of moisture vapor emission and alkalinity control.
VAP I® O.R.S. -Anoil removal and containment system.
VAP I® 06 Primer - A water-based one component resin system for priming absorbent and non-absorbent substrates such as KOSTER VAP I® moisture mitigations systems.
VAP I® Level Pro - A high strength, cement-based, self-leveling underlayment.
VAP I® Level Pro Finish - A fast curing, trowel-applied underlayment for thin-finish applications.
NB 1 Grey - A watertight, cementitious water-proofing compound subsequent crystallizing agents.
KD2 Blitz Powder - A highly reactive powder with an extremely short setting time. Used to stop active water leaks from the interior.
KD3 Sealer - A silicifying liquid for surface sealing. Used in conjunction with the KD2 Blitz and NB 1 Grey.
SB Bonding Emulsion - A carboxylated styrene butadiene copolymer latex. Used in conjunction with NB 1 Grey.
KB PUR® Crack Injection Systems - Polyurethane-based products designed to be injected into cracks to seal active leaks or fill cracks to prevent water flow.
BS-1 Bitumen Paste - A Bitumen-based paste that may be used to repair leaks on roofs covered with bitumen membranes or corrugate sheets, or for sealing wall connections with or without embedding reinforcement mesh.
KBE Liquid Film - A Bitumen-based product used for foundation and intermediate waterproofing on horizontal areas of terraces, balconies, wet and/or damp rooms (under screeds) as well as for sealing seams and edges of waterproofing membranes in above and below ground construction. (such as underground garages.)
KOSTER KBE RS- A highly elastic, solvent-free, spray-applied, bitumen-based waterproofing compound. The material is weather resistant and UV-Stable. It reacts very fast and is immediately resistant to rain after installation. It may be exposed to water-head 24 hours after the application.
KOSTER KSK ECO 10 - A cold-applied self-adhesive membrane used for waterproofing. Due to its high ductility and flexibility, it can also be easily applied to intricate details. KOSTER KSK ECO 10 is used for positive side waterproofing of basements, tunnels and tanks, for waterproofing foundations and for intermediate waterproofing of horizontal areas of terraces and balconies.
KOSTER KB-Flex® 200 - A permanently elastic waterproofing compound for sealing tubular pipe penetrations, cavities, etc., against moisture or pressurized water.
KOSTER American Corporation has been dedicated to providing construction industry professionals with top-notch quality products since 1992. KOSTER products are designed with ease of installation in mind. KOSTER's expert Sales, Technical, and Support team bring 100's of years of experience to architects, engineers, construction managers, contractors, and professional flooring installers.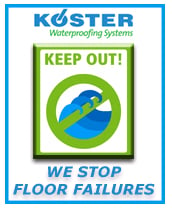 Supplier Directory Categories