About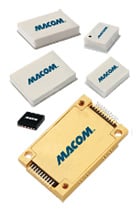 MACOM is a new breed of analog semiconductor company — one that delivers a unique combination of high growth, diversification and high profitability. We are enabling a better-connected and safer world by delivering breakthrough semiconductor technologies for optical, wireless and satellite networks that satisfy society's insatiable demand for information.

Today, MACOM powers the infrastructure that millions of lives and livelihoods depend on every minute to communicate, transact business, travel, stay informed and be entertained. Our technology increases the speed and coverage of the mobile Internet and enables fiber optic networks to carry previously unimaginable volumes of traffic to businesses, homes and data centers.

Keeping us all safe, MACOM technology enables next-generation radars for air traffic control and weather forecasting, as well as mission success on the modern networked battlefield.

MACOM is the partner of choice to the world's leading communications infrastructure and aerospace and defense companies, helping solve their most complex challenges in areas including network capacity, signal coverage, energy efficiency, and field reliability, through its best-in-class team and broad portfolio of RF, microwave, millimeterwave and lightwave semiconductor products.

MACOM is a pillar of the semiconductor industry, thriving for more than 60 years of daring to change the world for the better through bold technological strokes that deliver true competitive advantage to customers and superior value to investors.

Headquartered in Lowell, Massachusetts, MACOM is certified to the ISO9001 international quality standard and ISO14001 environmental management standard. MACOM has multiple design centers, Si, GaAs and InP fabrication, manufacturing, assembly and test, and operational facilities throughout North America, Europe, Asia and Australia. In addition, MACOM offers foundry services that represents a key core competency within our business. The foundry provides access to, and control of our broad range of proprietary technologies in an asset light, cost effective structure.

MACOM sells and distributes products globally via a sales channel comprised of a direct field sales force, authorized sales representatives and leading industry distributors. Our sales team is trained across all of our products to give our customers insights into our entire portfolio. Click here to contact a local sales engineer or representative

Our global organization of skilled engineers is driven every day to solve the world's most demanding wireless and wireline application challenges. We're proud of our more than sixty years' of hands-on experience designing and building analog semiconductor technology across the RF to Light spectrum.
Supplier Directory Categories
MACOM is also listed in these categories: