About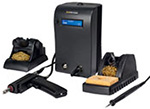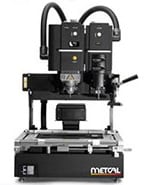 Metcal is a benchtop solutions expert that has delivered broad value to customers since its Silicon Valley beginnings in 1982. Offering unrivalled performance, risk mitigation, and ROI, we give electronics manufacturers the tools — and the confidence — they need to develop faster, safer, more advanced products.

Metcal's track record of innovation is legendary. With SmartHeat® and now with Connection Validation™ — both industry firsts — Metcal breakthroughs have empowered our global OEM and electronics assembly customers in the automotive, aerospace, medical devices, and military sectors. And today, we're accelerating the pace of global innovation even further, forging developments in hand soldering, convection rework, fume extraction, and fluid dispensing.

Moving forward, Metcal's industrial ingenuity — and its enduring passion for problem solving — will continue to drive the evolution of the benchtop.

Hand Soldering Systems
The Metcal Hand Soldering Systems provide users with a wide range of choices to address conduction hand soldering, desoldering and rework processes. At the core of each soldering iron is SmartHeat® Technology. This means that soldering, desoldering and rework are always performed at safe and controlled temperatures. Learn more...

Convection Rework Handheld and Systems
Metcal soldering stations and soldering irons are highly effective for applications such as: lead-free, high mass components or boards, thermally sensitive components requiring low operating temperature, high volume production soldering, conduction rework of SMDs, touch-up of very small components and desoldering of through-hole devices. Learn more...

Fume Extraction
For the safety of your operators and working environment, Metcal offers a full line of solder fume extractors. From volume to tip to bench-top fume extraction, Metcal has systems to purify the air by filtering harmful smoke and particulates from the working area. Fume extraction systems are also useful for extracting potentially noxious fumes from the use of certain adhesives and chemicals on the workbench. Learn more...
Supplier Directory Categories
Technical Articles


Risk Mitigation in Hand Soldering
(Metal Forming and Fabricating Machines)
Soldering is the bonding of metallic surfaces via an intermetallic compound (IMC). The interaction between thermal energy delivery, flux chemistry, and solder chemistry creates the solder bond or... (
View Full Article
)