Profile Home
About
Quality Engineered Thermoplastic Valves + Controls

For Chemical, Water/Wastewater, & Ultra-Pure Liquids
Founded in 1967, Plast-O-Matic strives to continually advance the technology of liquid pressure and flow control in plastic piping systems.
As the performance leader in the development of plastic valves and controls, Plast-O-Matic provides a complete line of standard and custom designed solutions for difficult applications.
Chemical
The corrosive liquid markets use Plast-O-Matic products for the control of sodium hypochlorite, nitric acid, hydrochloric acid, phosphoric acid, sulfuric acid, solvents, chlorine, hydrogen peroxide, ethylene glycol, seawater, detergents, surfactants, brine, oil, fluoride, ferric chloride, sodium bi-sulfate, ferric sulfate, and calcium chloride.
Ultrapure
PLAST-O-MATIC HAS 50 YEARS OF EXPERIENCE in the control of ultra-pure liquids. The high purity and ultra-pure liquid markets use Plast-O-Matic products for the control of deionized water, reverse osmosis water, ultra-pure chemicals, sanitary process liquids, and sodium bicarbonate. Our proprietary two-part preliminary cleaning procedure is key to our high purity products. First, surfaces are treated to be amenable to the scavenging of metallic residues, mold release agents and ancillary contaminants. SEMI F-57 compatible agents are used to scour the activated surface.
Water/Wastewater
Water/Wastewater Treatment systems rely on Plast-O-Matic products for pump protection and system efficiency, chemical injection, exacting pressure and flow control, air release, degassing and vacuum venting, pulsation dampening, and anti-siphon protection. Plast-O-Matic Valves are designed for the ultimate performance in purity, corrosion resistance, reliability and longevity - four critical factors in any water/wastewater treatment system.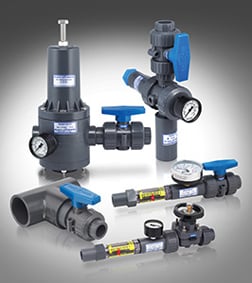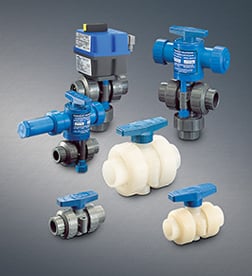 Plast-O-Matic Valves, Inc. is listed in these service categories:
Technical Articles


Ultra-Pure Water Systems
(Valves)
For many years, the need for and consumption of ultrapure water has been increasing at a dramatic rate. Its use is essential in many industries such as pharmaceutical, laboratory research, food... (
View Full Article
)