Profile Home
About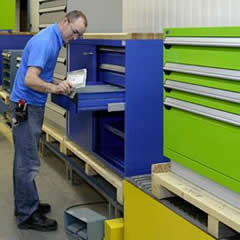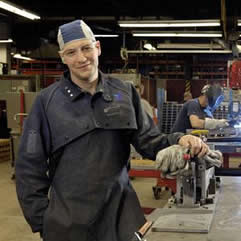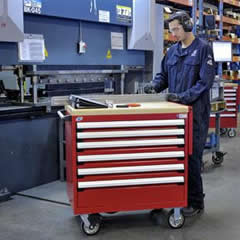 Innovation, Durability, Quality
Rousseau Metal was founded in 1950 and most of the work performed at that time was custom fabrication and metal stamping for specific contracts. Operations began with five employees in a 15,000 square-foot factory situated on the south shore of the St-Lawrence River in St-Jean-Port-Joli, Quebec. Rousseau Metal now has more than 350 employees working in a 254,000 square-foot plant.
In its early days, Rousseau was known for made-to-order products, manufactured to meet the requirements of its customers, who were mainly the government and private businesses. A variety of products were manufactured, such as mail sorting equipment for Canada Post, toll booth tokens, electric meter boxes, laboratory boxes and other multi-purpose cabinets, repair workstations, bridge tables and chairs, sheds, and even snowmobiles for a short while.
In the 1970s, Rousseau seized business opportunities and moved toward creating their own line of products in the industrial sector. The first shelving and cabinets were designed, while the company established a dedicated sales force to find new and potential customers, first in Canada and then in the United States. Since 1989, with support from manufacturers' agents and specialist distributors, Rousseau has been covering the private and government sector throughout Canada and the United States.
Rousseau has continued to grow year after year. The company is now well known for quality products and for always putting their customers first. The Rousseau name is synonymous with competitive and tailor-made products, a highly qualified workforce, cutting-edge technology, reliable and flexible manufacturing processes, and its commitment to environmental responsibility. Thanks to many years of experience, Rousseau's system of quality control has gone from strength to strength and was first awarded ISO certification in 1997. Its most recent ISO 9001-2008 certification was obtained in 2012 in recognition of the continuous efforts made to maintain quality products and processes. Each of Rousseau's departments, from R&D and production to sales and support, work together as a team to provide customized storage systems that truly meet the requirements of all clients.
Rousseau is able to meet the challenges of a globalized market and, with support from a driven team of skilled employees, is committed to contributing to the success of its customers the world over. To achieve this, Rousseau partners with a trusted global distribution network to collectively offer innovative and distinctive products.
Rousseau's various product lines scale to your specific needs and evolve as your business grows. Specialists are on hand to offer personalized solutions to address the storage and ergonomic challenges of your work environment. Whatever your project, the smart choice is to join the long line of successful companies that have already embraced Rousseau storage solutions.
Technical Articles