About
RUST PREVENTATIVE COATING EXPERTS

Sanchem rust preventive coatings and unique surface treatments are the backbone you need to prevent corrosion failure in anything and everything you build, wherever it may be. NO-OX-ID rust preventative coatings are used to prevent metals from corroding in the most severe environments: including salty, humid, and acidic environments. Our SafeGard CC conversion coating and chromate-free plating systems will keep your paint, e-coat, and powder coatings locked onto metal surfaces. Sanchem provides advanced products and cost effective systems to stop corrosion problems in all industries. Let us work with you to find a solution that meets your needs.
Sanchem will prevent corrosion and solve paint adhesion problems on steel, iron, aluminum, copper, zinc, magnesium, galvanized and IVD. Sanchem's barrier coatings such as NO-OX-ID and SafeGard are high performance, environmentally safe, rust preventatives that can be used by people with little or no technical background. These rust proofing products can be easily be applied in field for pipelines and valves, inside manufacturing plants for protecting production parts, finished equipment during shipment or storage. SafeGard CC is a family of chromate-free conversion coating chemicals for the paint line. Sanchem Inc is ISO-9001 certified.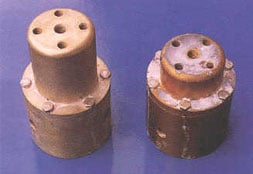 SafeGard CC
The only chromate-free conversion coating that can give you the golden color or the clear color from the same tank with excellent paint adhesion, humidity and salt spray protection. SafeGard CC can be used for aluminum, magnesium and zinc.
NO-OX-ID
NO-OX-ID ... THE ORIGINAL RUST PREVENTIVE. This anti corrosion coating requires minimal surface preparation and is the long-term solution for lubrication and corrosion control. NO-OX-ID A-Special is used as an anti condensation coating on structural steel, in acid pickling areas, brine tanks, inside water tanks, steel cables, bridges and cofferdams.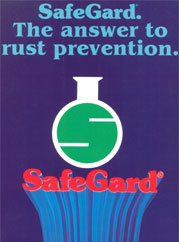 NO-OX-ID A Special WW
This cosmoline type anti corrosion coating is approved under NSF Standard 61 for use as both an internal coating for the interior of potable drinking water tanks and approved lubricants NSF for water treatment facilities. When coating an elevated water tower with NO-OX-ID, the surface does not require a SSP#10 white sandblast before application, only the use of power brushes.
SafeGard
SafeGard's is a breakthrough water based rust preventive that is non-flammable, non-toxic and provide an excellent barrier to the corrosive effects of humidity and salt spray. There are many different surface finishing consistencies and colors of SafeGard available. SafeGard coatings range from soft and easy to remove to firm and hard to remove that is like a waterbased cosmoline.
Stop rust before it starts with a SafeGard Protective Coating
ELECTROLESS NICKEL PLATING
ZINCATE-FREE PLATING & ELECTROLESS NICKEL
For years, both electroless nickel plating and direct plating on aluminum castings, magnesium, Zamak, and titanium was complicated long process that often ended in failure. SafeGard CC Plating Catalyst revolutionizes the plating industry by simplifying a process that requires less process tanks and less time.
Electroless Nickel plating is now easier, less costly and more foolproof with SafeGard CC plating Catalyst. This zincate-free process system is stable, long lasting, easy to use, takes less time to apply and will reduce coating rejects, which increase the throughput of high quality parts. The electrochemical deposition of the "Plating Catalyst" is not directional and once the process starts, the film will deposit itself into any and all recessed areas or small holes.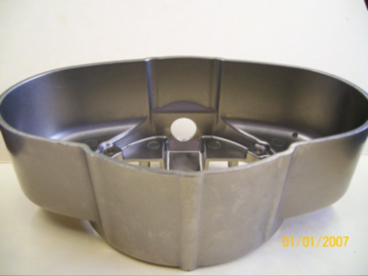 Supplier Directory Categories
Sanchem, Inc. is also listed in these categories:
Technical Articles