About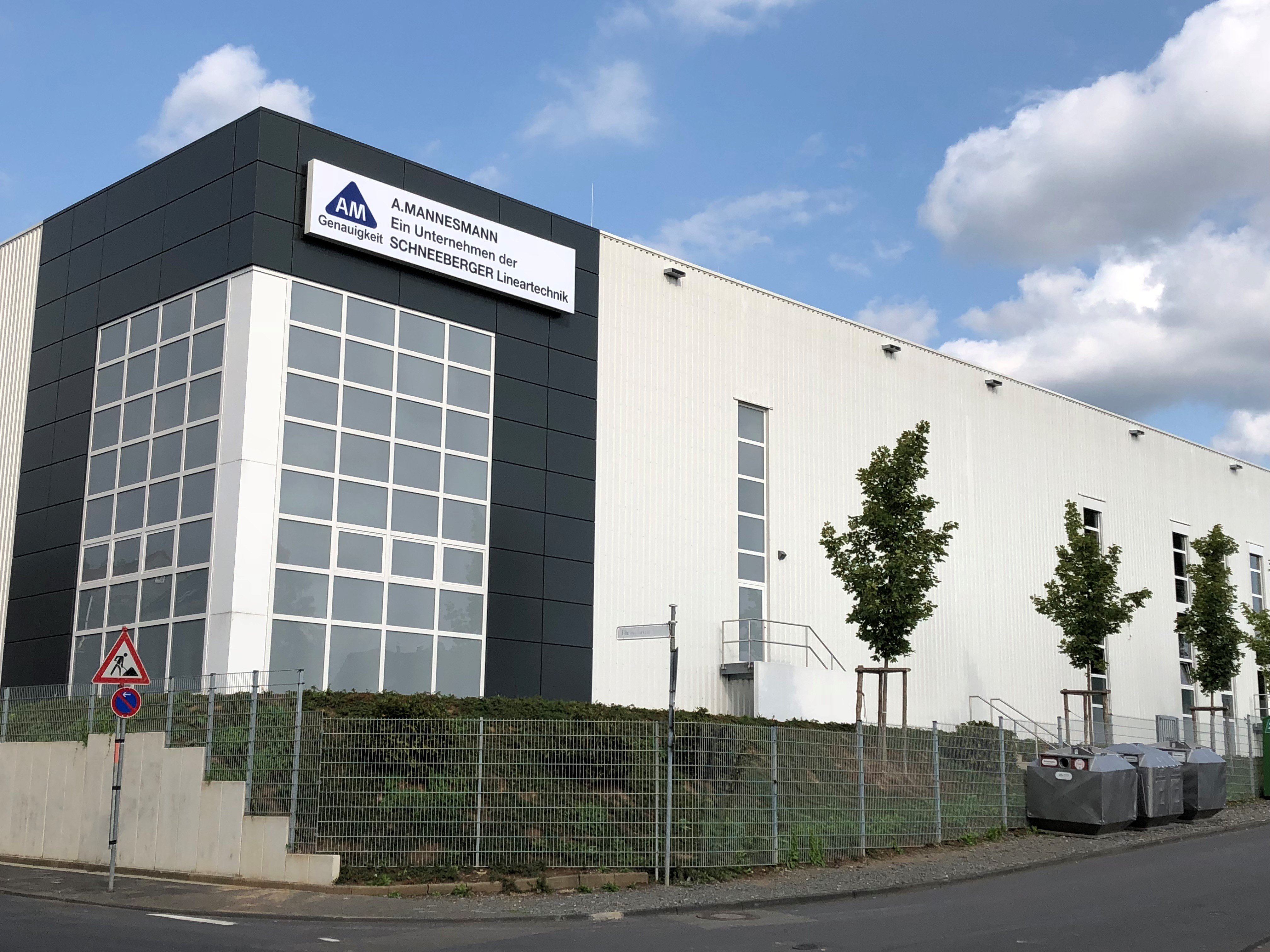 With the first linear guideways conceived and developed by SCHNEEBERGER over 50 years ago, the foundation was established for the worldwide linear technology of today. Their original guidelines for the design of linear guideways defined the criteria for bearing load capacity, reliability, shape and form, and they are quickly adapted by the industry, still serving as today's standard.
As a company specializing in linear technology - specifically linear bearings and linear guidance systems - they use the most modern manufacturing techniques to produce cutting edge linear motion products including: cross roller bearings, ball bearings, frictionless tables, miniature guideways, multi-axes positioning systems and stages, profiled guideways, automation modules/actuators, linear guides, recirculating units, and ballscrews.

SCHNEEBERGER highly qualified employees manufacture SCHNEEBERGER products in Switzerland and Germany for over 4,000 customers all over the world. They are proud to be ISO 9001 certified manufacturers of linear technology products.
In December 2012, Schneeberger, Inc. was proud to receive a Preferred Supplier award from MAG Giddings & Lewis. The award was based on Schneeberger delivery performance, the critical nature of components supplied, leadership, organizational assessments, and the overall relationship between our two organizations. G&L presented a total of 16 of these awards, picked from a base of 334 active suppliers.
LINEAR BEARINGS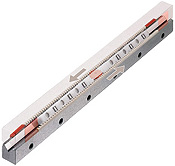 SCHNEEBERGER linear bearings are renowned for high accuracy, reliability and excellent operating characteristics. A wide range of differing guides is available which, according to the application, may be fitted with balls, needles or rollers. This large selection of guides and rolling elements permits the user to select the optimum guidance concept. By employing SCHNEEBERGER linear bearings the user can call on experience and technical knowledge accumulated and extended over decades. For over forty years, there has been ongoing development of linear bearings by a team of engineers at SCHNEEBERGER. Recently, SCHNEEBERGER developed the new FORMULA-S Cage Assist Solution for applications that are susceptible to high accelerations/decelerations. Designers can still use crossed-roller bearings even in linear motor driven axes as "Cage Creep" is no longer a factor in the design of high dynamic motion systems.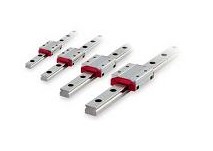 MINIATURE GUIDEWAYS
The new MINIRAIL series, a two-row miniature guideway, is ideal for those applications that require precision movement in a small yet robust package. The four-point contact and two-row design consistently provide accurate positioning and high precision. The innovative ball-retainer design simplifies handling of the guideway during assembly. Carriages can be assembled or removed from the rail without losing the stainless steel balls. The MINIRAIL series includes sizes 7, 9, 12, 15 and 14, 18, 24, 42 with guideway lengths up to 980 mm. Two preload and accuracy classes are available and product dimensions conform to DIN 645-2.

PROFILED GUIDEWAYS
MONORAIL MR (Roller Guideway)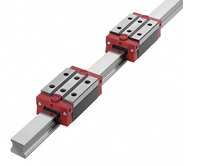 The remarkable benefits of the MONORAIL MR include: High rigidity, excellent dynamic and static load carrying capacity, outstanding running smoothness and total enclosure of the carriage. The highly rigid MONORAIL MR also provides improved vibration behavior, smaller vibration amplitudes and thus extends tool life.
MONORAIL BM (Ball Guideway)
The MONORAIL BM, with few but optimally designed components, provides outstanding running characteristics due to the small number of transitions in the ball tracks. Low friction values, little pulsation, and high traveling speeds distinguish this guideway as an ideal and economical choice for a variety of applications.
Click here to calculate service life for Schneeberger MONORAIL Guideways.
LINEAR GUIDANCE SYSTEMS - FRICTIONLESS TABLES (SLIDES) AND POSITIONING SYSTEMS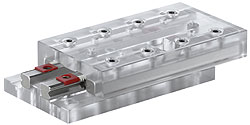 With a direct focus on applications that require high speed, high accuracy, vacuum compatibility, and smooth motion, SCHNEEBERGER entered the systems business with specific concentration in expert project management. With project team members that possess strong backgrounds in manufacturing, assembly, and logistics, a thorough investigation into each application and given specs is completed before providing a solution. The comprehensive standard program extends from simple frictionless tables to customized multi-axis systems. they produce the bearings, machine most of the components on their own, purchase motors, drivers, controllers and encoders, as well as perform the integration and test phases. The numerous options such as covers, measuring systems etc. permits the user to find the most suitable solution for most linear guidance system application.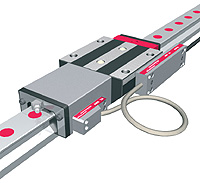 ADVANCED MEASURING SYSTEM (AMS 3A/4A)
The concept of integrating a linear magnetic scale into a precision linear motion guide was invented by Schneeberger and applied to its Monorail series of high-capacity, high-stiffness roller guides. This combination technology allows for drop-in replacement and provides a cost-saving alternative to linear glass scales. Built upon the same technology that Schneeberger first introduced to the industry in 1992, the newest Advanced Measuring System (AMS), Generation 3A/4A, includes a hard cover band that protects the magnetic scale from accidental physical damage that could lead to signal decay. In addition, AMS 3A/4A uses new, wear-free ceramic sliding elements on the electronic scanning head for long-term protection against contamination.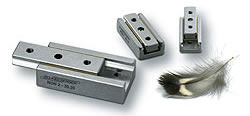 OTHER PRODUCTS
Schneeberger manufacturers and distributes a host of products relevant to various industries including: Machine Tool, Semiconductor, Medical, Woodworking, and Automation. Products include:
Automation modules Advanced measuring systems
Mineral casting (Rhenocast)
Schneeberger e-News
Subscribe to the Schneeberger newsletter and you are always well informed about the latest products and events.
Click here to subscribe.
Schneeberger USA represents the following brands:
Airex Corporation Linear Motors
15 Lilac Lane
NH 03878 Somersworth
USA
Phone +1 781 271 0140 , Fax +1 781 275 4749
info-usa@schneeberger.com

SFERAX S.A. Linear Ball Bearings
Route de Boudry 1
Case postale
2016 Cortaillod (Neuchâtel)
Switzerland
Phone +1 781 271 0140 , Fax +1 781 275 4749
info-usa@schneeberger.com

Karl Hipp GmbH
Hohenzollernweg 4
72393 Burladingen-Ringingen
Germany
Phone +49 7475 9519 0, Fax +49 7475 9519 19
post@karl-hipp.de

Micron Ball Screws (large diameter)
Promyslova, 37
65031 Odessa
Ukraine
Phone +1 781 271 0140 , Fax +1 781 275 4749
info-usa@schneeberger.com
Supplier Directory Categories
Schneeberger Inc. is listed in these categories: