About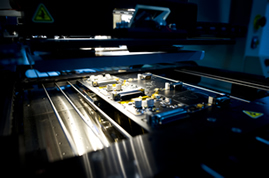 World Class, American Made
Sealevel is an American-owned designer and manufacturer of critical communication products, I/O and industrial computers. Because the needs of our customers are ever evolving, we're continually developing new products that leverage emerging technology and the growing Industrial Internet of Things (IIoT).
The Sealevel Facility
Located in the upstate of South Carolina, our modern, 52,000-square foot facility sits on a 17-acre site. To protect electronic components during assembly and test, we've installed over 20,000 square feet of ESD tiling.
Our Quality Commitment
We are committed to the design and manufacturing of reliable, quality communications products and dedicated to providing exceptional service and on-time delivery. Our commitment is further demonstrated by our ISO 9001:2015 certification and extensive on-site testing capabilities. All board-level assembly and testing take place at Sealevel using our state-of-the-art surface mount manufacturing line. All products are visually screened using Automate Optical Inspection (AOI) and 100% of the functionality is tested before shipment. Other equipment to assist in new product design and testing includes x-ray, vibration table and multiple environmental tables.
Putting the I/O in IIoT
Sealevel's SeaConnect family of IIoT products is one of our most popular and fastest growing lines. Currently, we are working with over 40 accounts to implement cellular-connected applications in a variety of vertical markets.

The Sealevel Team
With more than 30 years of experience and over 259 standard products, our forte is using in-house engineering expertise to create custom adaptations of standard products for OEMs, matching their application requirements. Our staff of more than 65 members includes our 17-person engineering team.
Call Sealevel today at +1 864.843.4343 or email sales@sealevel.com.
Supplier Directory Categories
Sealevel Systems, Inc. is also listed in these categories:
Technical Articles