Profile Home
About
Visumatic - The Experts in Feeding and Driving Technology

Visumatic Industrial Products designs and builds the best specialty automated screw feeding and driving equipment on the market. Visumatic systems are engineered for your parts and your business, built and tested in house. We deliver longer life cycles, extreme durability, pinpoint accuracy and the strongest guarantee in the business.

Feeding and driving engineering is all we do and we've been at it for over 50 years. We continue to exceed customer expectations by developing lightning fast multi-part, location and torque robotic assembly. We can handle any size nut, screw, pin, bolt, rivet or fastener.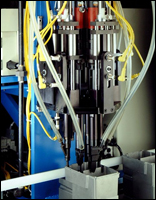 Three Types of Systems are Available
Handheld Systems: In-line or pistol gripped screwfeeders used by an operator to manually locate the driving position and automatically install the fastener.
Machine Builder Component Systems: Modular building blocks for those who are building a fully or semi-automatic assembly process.
Fixed Systems and Robotics: Turnkey assembly systems delivered to the customer ready to "plug n work", completely designed to your specifications and parts.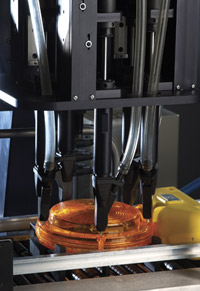 The Visumatic Advant-Edge
Their 100% Guarantee: Our systems are 100% guaranteed with a six-month unconditional guarantee, and lifetime customer service support.
Customer Specific Technical Manuals: Manuals are complete with your program, electrical, mechanical schematics, down to detailed replacement parts. We can be on the 'same page' with you with just a phone call. A Visumatic Exclusive.
Customized For Your Process: Visumatic nosepieces are engineered to fit your part and application.
More Experienced: Our engineers have over 90 years combined experience and our average employee tenure is over 14 years..
On-call Support: Visumatic's support staff is on-call and can be on site within 24 hours.
Fast Delivery: Most applications can be delivered in 3 to 6 weeks.
Extensive Testing: Systems are exhaustively tested to ensure long run cycles, decrease down time and low cost of ownership.
High Repeat Business: Our customer satisfaction is so high that over 80% of our business comes from repeat customers.
Visumatic Industrial Products is an independent, family-owned and operated business centrally located in Lexington, Kentucky.
Technical Articles