About
WEH® Quick Connectors for pressure and leak testing, filling and plugging in just seconds!
No thread sealants, no tapes, no hand tightening - Just PUSH to connect.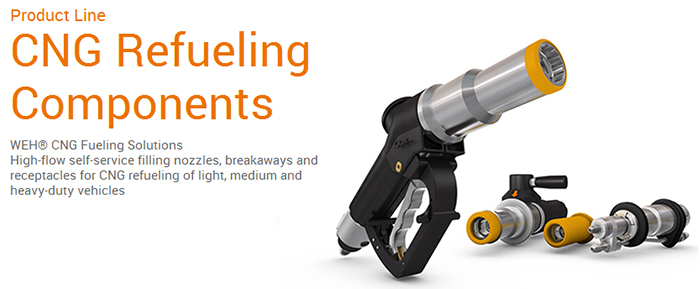 WEH® is a worldwide leading manufacturer of innovative connector and fueling solutions and a long-standing partner of the international automobile, hydraulic and manufacturing industries. Safety, ease of operation and the well-executed design of WEH® products have led to widespread acceptance and customer satisfaction.
WEH Technologies Inc., the US branch of WEH Germany, was established in Katy, Texas in 2009 to better support WEH's customers across North America. It directly handles sales, distribution and service of all
WEH® Products:
WEH® Instant Connector Solutions
Quick couplers for use in process and manufacturing industries for pressure, vacuum, function and leak testing, filling and plugging of components with threads, hoses, tubes etc.
WEH® Gas Connector Solutions
Quick couplers for safe and efficient gas cylinder filling with industrial and medical gases, CO2, oxygen, breathing air, etc. for a large variety of CGA standards, e.g CGA 540, 580, 510, 320, 870, 910, 940, 346, 347 etc.
WEH® Valve Solutions
A large variety of standard and customized check valves as well as high pressure valves for gas mixing, blending, filling and dispensing applications
WEH® Fueling Solutions
Fuelling nozzles and receptacles for safe and easy refueling with CNG or hydrogen
Wherever media lines for air, gases, fluids or hydraulics have to be connected repeatedly, the patented
WEH® Connector is the right industrial tool. WEH® Connectors simplify workflows and reduce operating times, thus increasing the productivity in many manufacturing processes. Equipped with the Original WEH® jaw locking mechanism, you get instant connection to your test port. In addition to being ISO 9001 certified, the latest manufacturing facilities and continuous improvement processes guarantee that the highest standards of quality are met.
WEH® – The specialist in connection technology for more than 30 years. A wide spread of customized solutions prove our know-how. We solve your connection challenges, too! Contact us!
Opting for WEH®, means opting for Safety and Efficiency for Functionality and Investment.

Supplier Directory Categories