About
Watson Marlow Pumps Group is the world leader in peristaltic hose pumps and tube pumps. They have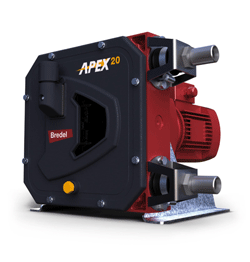 over one million hose and tube pumps metering, transferring and dispensing shear sensitive, abrasive and aggressive fluids in every industry such as: biopharmaceutical, chemical, water and waste treatment, food and beverage, print and packaging and ceramics.
Nothing but the hose or tube touches the fluid, eliminating the risk of the pump contaminating the fluid, or the fluid contaminating the pump. Fluid is drawn into a pump, trapped between two shoes (in a Bredel pump) or rollers (in a Watson-Marlow pump), and finally is expelled from the pump. The complete closure of the hose which is squeezed between a shoe and the track gives the pump its positive displacement action, preventing backflow and eliminating the need for check-valves when the pump is not running.
There is no contamination of the pump or fluid
Ideal for slurries, viscous, shear-sensitive and aggressive fluids
Easy to install, simple to operate, inexpensive to maintain
Pump design prevents backflow and syphoning without valves
Wide range of tubing includes industrial, food-grade and medical

Watson Marlow Pumps Group's range of pumps meets the demands of processes across all industries from the heaviest of manufacturing duties to the most precise research task. Over one million pumps sold testify to the time and money-saving abilities of Watson Marlow Pumps Group.
Supplier Directory Categories