Profile Home
About
WHY WOLFSPEED?
We are the only player in the industry with a fully commercialized, broad portfolio of the most field-tested, SiC Power and GaN RF solutions on the market.
And, while there is a great deal of complexity and intellectual property in our designs and our solutions, our vision and what we make possible for our customers is simple…Powering More. Consuming Less.
By leading the innovation and commercialization of SiC and GaN, our mission is to liberate designers to invent power and wireless systems for a responsible, energy efficient future.

SiC Power Devices — Wolfspeed is the world's foremost manufacturer of SiC-based MOSFETs, Schottky diodes and power modules that put increased efficiency, higher switching frequency and reduced system size in the hands of designers everywhere.
Power Documents, Tools, & Support — Simplify and expedite designing in Wolfspeed SiC with our design tools, including the SpeedFit design simulator, LTspice and PLECS Models, our reference designs and more!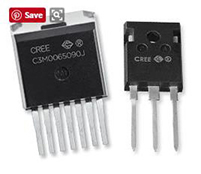 GaN on SiC RF Devices — The beating heart of any Wolfspeed RF component is a GaN HEMT that enables performance far exceeding that of any other technology, for any application. It's world-beating bandwidth, efficiency and frequency of operation, and it's only from Wolfspeed.
Technical Articles