About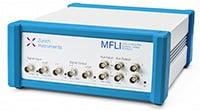 Zurich Instruments is a test and measurement company based in Zurich, Switzerland, developing and selling measurement instruments and delivering customer support in key markets around the world, either directly or with carefully selected partners. We are a growing, independent and founder-led company.

Zurich Instruments makes cutting-edge instrumentation for scientists and technologists in advanced labs who are passionate about phenomena that are often notoriously difficult to measure. Our core offering includes lock-in amplifiers, phase-locked loops, arbitrary waveform generator, impedance analyzers, digitizers and boxcar averagers.

We believe that system integration is good. We believe that system integration leads to significant time savings, reduced lab setup complexity, efficient workflows and reliable, accurate measurements. Our instruments deliver market-leading specifications for sensitivity, dynamic range, feature set, speed and accuracy.

We integrate state-of-the-art analog electronics, high-precision digital signal processing, innovative software and intuitive user interfaces into a line of products guided by lean design principles. Integration does not stop at the instrument level. Our instruments also integrate highly responsive and supportive customer care, complete documentation, as well as a high level of professionalism and know-how.
Our measurement systems are used in a wide range of demanding applications all over the world. We are inspired by our customers, who are global leaders in scientific and industrial research and development, by our external partners and by each other. Zurich Instruments has a pipeline filled with projects and innovations that we are looking forward to sharing with you. We are open to new partnerships, new collaborations, new customers and new team members.
Supplier Directory Categories
Technical Articles