From
Standard Handbook for Civil Engineers, Fifth Edition
Shallow Foundations
Shallow foundation systems can be classified as spread footings, wall and continuous (strip) footings, and mat (raft) foundations. Variations are combined footings, cantilevered (strapped) footings, two-way strip (grid) footings, and discontinuous (punched) mat foundations.
Combined footings (Fig. 7.7) are used where the bearing areas of closely spaced columns overlap. Cantilever footings (Fig. 7.8) are designed to accommodate eccentric loads.
Figure 7.7:

Combined footing.
Figure 7.8:

Cantilever footing.
Continuous wall and strip footings (Fig. 7.9) can be designed to redistribute bearing-stress concentrations and associated differential settlements in the event of variable bearing conditions or localized ground loss beneath footings.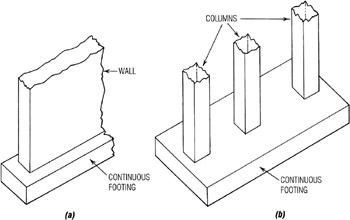 Figure 7.9:

Continuous footings for (a) a wall, (b) several columns.
Mat foundations have the greatest facility for load distribution and for redistribution of subgrade stress concentrations caused by localized anomalous bearing conditions. Mats may be constant section, ribbed, waffled, or arched. Buoyancy mats are used on compressible soil sites in combination with basements or subbasements, to create a permanent unloading effect, thereby reducing the net stress change in the foundation soils.
(M.J.Tomlinson, Foundation Design and Construction, John Wiley & Sons, Inc, New York (www.wiley.com); J.E.Bowles, Foundation Analysis and Design, McGraw-Hill Book Company, New York. (books.mcgraw-hill.com) Spread Footings for Highway Bridges, Federal Highway Administration, Publication No. FHWA-RD-86 185 October, 1987)
7.9

Approach to Foundation Analysis

Shallow-foundation analysis and formulation of geotechnical design provisions are generally approached in the following steps:
Establish project objectives and design or evaluation conditions.

Characterize site stratigraphy and soil...
Copyright The McGraw-Hill Companies, Inc. 2004 under license agreement with Books24x7
---
Products & Services
---
Topics of Interest