High Precision Machining of Flat Glass Substrates
Service Detail from Abrisa Technologies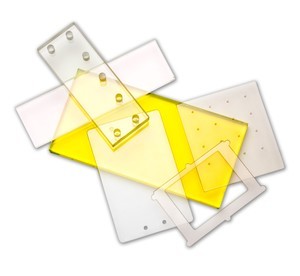 Glass Machining Capabilities
Abrisa Technologies can provide high precision machining of a broad array of flat glass substrates such as soda lime, borosilicate (Borofloat®), fused silica and quartz, Pyran®, Robax®, HIE glass such as AGC Dragontrail, Corning® Gorilla® Glass, SCHOTT Xensation™, EN-A1, AS 87, D263, Eagle XG and more.
High volume, large capacity machining or prototype machining is all done on site at our Santa Paula manufacturing facility.
Typical machining capabilities include:
Cutting - click here for more info

Waterjet
Scribe Cutting
Hand Cutting
Precision XY Sawing (slicing)
Tube & Rod Cutting
Angles and Multi-level Bevels
Seams
Corner Dubbing
Circle and Flat
Pencil and Polished Edges
CNC Processing
Shapes
Notches
Slotting
Grooving
Drilling - Holes and Tapers
Circle Grinding & Polishing
Buffing and Lapping
Sandblasting
Additional capabilities info click here.
Your Total Solution Partner
An informative overview of Abrisa Technologies' Total Solution Glass and Coating manufacturing capabilities, highlighting manufacturing experience, vertically integrated capabilities and services to fulfill customers' market and photonic enabled requirements...
now and into the future.
Total Solution Capabilities:
Guide to Glass - The Selection Process
Selecting Glass to Meet Requirements
Different types of glass possess different qualities depending upon their chemical makeup and how the glass was produced. Choosing the right glass for your application requires understanding the different physical properties each has.
Watch>>>Abrisa Technologies Capabiities Video
Abrisa Technologies is a recognized global supplier of high quality, fabricated glass components, optical thin film coatings, and custom glass solutions for a wide variety of industries. From our US based Abrisa Industrial Glass fabrication facility in Santa Paula, CA and our ZC&R Coatings for Optics division in Torrance, CA we serve diverse industries such as microelectronics and displays, semiconductor, military, automotive, aerospace, medical, biomedical and scientific R&D. We provide custom specialty flat glass and coating products for applications such as: flat panel display, touch and gesture recognition; visible to IR imaging and surveillance; entertainment, indoor and outdoor lighting; advanced instrumentation; and photonics.