Compact Electromagnetic Flow Sensor
Featured Product from Aichi Tokei Denki Co., Ltd.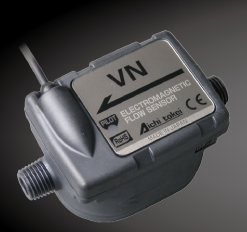 Model VN is the cost-saving electromagnetic flow sensor that is compact and does not require any straight pipe length so that it can be easily built in the machines and devices. Due to its excellent small flow-rate measurement and repeatability, it has merits in various applications such as pesticide spraying agricultural drone, milk feeding machine for calves, medical cleaning equipment, Foam (CAFS) type firefighting vehicle, remaining amount management of beer server's tank, 3D metal printer, etc.

Features
This flow sensor is a compact version of our electromagnetic flow meters that has been designed to be easily built into equipment. It also has realized cost saving. It provides stable measurement and repeatability. * We are happy to provide sample or evaluation products for customers who need to build the sensors into their equipments.
Compact design, no straight piping is required for either side of the piping! Greater freedom in installation locations.
Equipped with two outputs, this sensor broadens the choice of output, such as flow rate, switch judgment and self-diagnosis.
Having no moving parts makes free of damage resulting from foreign substances.