Compact Electromagnetic Flow Sensors
Featured Product from Aichi Tokei Denki Co., Ltd.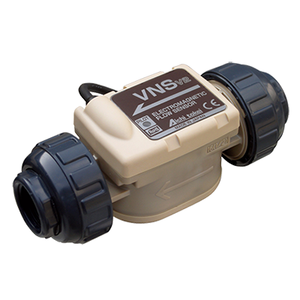 Model VNS is the electromagnetic flow sensor that is compact and does not require any straight pipe length so that it can be easily built in the machines and systems. Chemical solutions including sodium hypochlorite, caustic soda, etc., can be measured. Due to its excellent small flow-rate measurement and repeatability, it has merits in various applications such as water purification plant, distribution reservoir, sterilization system, factory's wastewater treatment, etc.
Feature
Compact and excellent cost performance
Outstanding reliability with no moving parts
Suitable for use in machines
Easy-to-check 2-color LED(status) indicator
2 selectable outputs (Unitpulse,High-density pulse,Warning,Switch)