BRYON Shielded & Non-Shielded Retractile Cords
Featured Product from BRIM Electronics, Inc.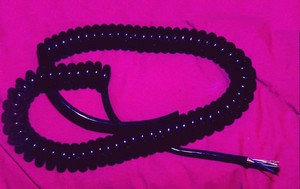 BRIM Electronics' cords are composed of multi-conductor 23 AWG 21/36 soft tinned copper for a longer flex life. Cords are jacketed in either TPR, or special vinyl -ByronTM formulation for a long service life. These cords are suitable for communication equipment, such as ham operations, head sets, radio equipment, telephone car carriers, etc. 300V working, 1 AMP carrying capacity.
Nominal conductor resistance .022 Ohms per linear foot., .165 Ohms per retracted foot.
OPER. TEMP: -20°C to +80°C .