PET Monofiliment Braiding/Sleeving
Featured Product from BRIM Electronics, Inc.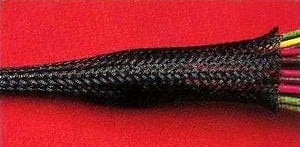 BRIM ELECTRONICS, INC. IS PLEASED TO ANNOUNCE THE INTRODUCTION OF A SERIES OF
PROTECTIVE SLEEVINGS: BRIM'S BMP SERIES OF PET (POLYETHYLENE TEREPHTHALATE)
MONOFILIMENT BRAIDING/SLEEVING. BRIM'S BMP SERIES OF BRAIDING/SLEEVING IS
SUITABLE FOR GENERAL COMMERCIAL & INDUSRIAL APPLICATIONS WHERE CHEMICAL,
FUNGUS, HIGH FLEXIBILITY, HIGH CUT-THROUGH & ABRASION RESISTANCE ARE ESSENTIAL.
THE BMP SERIES OF BRAIDS ARE CONSTRUCTED TO ALLOW INSIDE DIAMETERS TO EXPAND
2 TO 3 TIMES THEIR ORIGINAL BRAIDED DIMENSIONS. THIS ALLOWS EASY INSTALLATIONS
PLUS A SNUG, EVEN, CUSTOMIZED FIT OVER IRREGULAR SURFACES WHEN PULLED TAUGHT.
THEY COME IN SIZES RANGING FROM 1/8" TO 3" INSIDE DIAMETERS AND ARE INTENDED TO
COVER OBJECTS THAT ARE 3/32" TO 4 1/2".
IN SOME CASES THIS PRODUCT IS EVEN MORE CONVENIENT THAN SPIRAL WRAP TUBING AND
IS LESS EXPENSIVE THAN ZIPPER TUBING FOR MECHANICAL PROTECTION OR NORMAL HARNESS
APPLICATIONS. BMP IS EASILY CUT WITH AN INDUSTRIAL "HOT" KNIFE OR SCISSOR TO
MINIMIZE FRAYING.
OUR BMP SERIES COMES IN TWO FILAMENT THICKNESSES FOR GENERAL PURPOSE OR FOR
HEAVY DUTY APPLICATIONS WHERE ADDITIONAL ABRASION AND/OR CUT-THROUGH RESISTANCE
IS ESSENTIAL.
EVEN WITH PROLONGED SPOOL STORAGE THERE IS NO FRAYING, FLATTENING, OR CREASING.
IT IS RESISTANT TO MOST CHEMICALS, INCLUDING COMMON SOLVENTS. IT IS IMPERVIOUS TO
ROT, FUNGUS, GREASE, OIL, FUEL, AND SALT WATER.