Flat/Modular Telephone Cables
Featured Product from BRIM Electronics, Inc.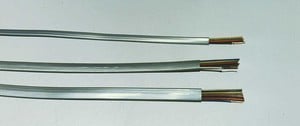 BRIM ELECTRONICS, INC. ANNOUNCES THE INTRODUCTION OF A NEW SERIES OF FLAT/
MODULAR STRAIGHT TELEPHONE CABLES. THIS SERIES IS RUN IN 4, 6 & 8 CONDUCTORS,
26 AWG 7/34 & 28 AWG 7/36 TINNED COPPER CONDUCTORS WITH POLYPROPYLENE
INSULATION OVER THE INDIVIDUAL CONDUCTORS, AND AN 80°C SILVER SATIN COLOR
PVC JACKET OVERALL.
DESCRIPTION: 4, 6 OR 8 CONDUCTORS OF 26AWG 7/34 OR 28AWG 7/36 TINNED COPPER, PP INSULATION, 80°C SILVER SATIN PVC JACKET OVERALL. SUITABLE FOR EXTENDING TELEPHONE LINES OR OTHER LOW AMPERAGE LINES.
COLOR CODE:
4 COND.: 1-BLK,2-RED,3-GRN,4-YEL
6 COND.: 1-WH,2-BLK,3-RED,4-GRN,5-YEL,6-BLUE
8 COND.:1-GRAY,2-WH,3-BLK,4-RED,5-GRN,6-YEL,7-BLUE,8-BRN
TINSEL CONDUCTOR AND 30 AWG CONDUCTORS ARE AVAILABLE TO ORDER. MODULAR PLUGS ON ENDS ARE AVAILABLE TO ORDER.
TPE AND PU JACKETED CABLE OR OTHER JACKET COLORS ARE AVAILABLE TO ORDER.