SILICONE RUBBER TUBING
Featured Product from BRIM Electronics, Inc.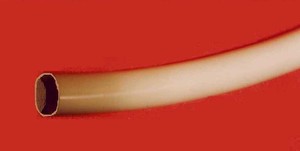 BRIMFLEXTM BSR SILICONE RUBBER TUBING-
MIL-R-5847 & ZZ-R-765 -- 200°C
BRIMFLEXTM BSR Silicone Rubber tubing is an extremely elastic and stable high temperature & low temperature tubing. Besides being extremely flexible, it has excellent mechanical strength (tear resistance) tensile strength, elongation, and weather resistance), and outstanding dielectric strengh,
flame resistance and corona resistance.
BSR meets MIL-R-5847 and Fed Spec. ZZ-R-765/9, Class 2b.
OPER. VOLT. 28AWG to 5/8": 300V; 3/4" to 1: 600V.
STD COLOR: WHITE
RoHS compliant.