ECA Insulated UL Hookup Wire 300°C
Featured Product from Daburn Electronics & Cable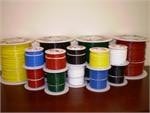 Now for applications requiring more extreme heat protection as well as excellent dielectric properties and/or chemical resistance. Daburn offers a new ECA perfluoropolymer insulated hook-up wire rated for operating temperatures up to 300°C and UL approved for use as internal wiring.
Daburn ECA Hook-Up Wire has the following characteristics:
Very Good Mechanical Strength and Abrasion Resistance

Excellent Electrical Insulating Properties

Superior Heat Resistance

Excellent Chemical Resistance similar to other fluoropolymers

Excellent Resistance to Ozone and Oxidation

Good Flexibility

Good Lubricity (low coefficient of friction)
Description: Single conductor stranded 27% nickel plated copper insulated with ECA perfluoropolymer insulation.
Operating Temperature: -50°C (static) to +300°C
Voltage Ratings: 300 Volts UL 11576, 600 Volts UL 11606 and 1000 Volts UL 11578
CSA Approved.
This series is RoHS compliant