FEP High Voltage Wire
Featured Product from Daburn Electronics & Cable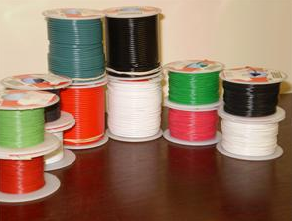 Fluorinated Ethylene Propylene (FEP) high voltage wire. This wire achieves high voltage protection due to the excellent dielectric properties of FEP and therefore has smaller diameters than other high voltage wires. FEP also has a high stress crack resistance and retains its toughness and flexibility even at higher temperatures up to 200°C. This wire is very resistant to chemicals including transformer oils. It has a low coefficient of friction, low flammability, negligible moisture absorption, and excellent resistance to ozone sunlight and weather.
High voltages - depending on AWG size up to 30 KV DC

High flexibility

Excellent resistance to chemicals

Small diameters

Reference: MIL-W-22759

FEP Resins meet flammability requirements of UL94V-O
This series is RoHS compliant.
Description: Stranded silver plated soft copper conductors insulated with FEP.
Operating Temperature: -65°C to +200°C