Fire-Resistant Anti-Static Wrap
Featured Product from Daemar Inc.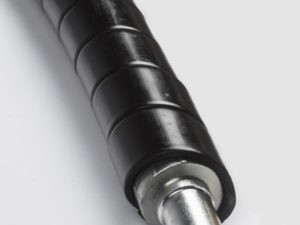 Fire-Resistant Anti-Static Wrap
Conductive thermoplastic compound on a polyethylene base, designed and certified for safe usage in mines and underground applications. FRAS has an extremely good balance or mechanical properties and tested to MSHA #IC-264/0, AS1880.10B, AS1180.13A and AS2600.
Pig's Tail™ Fire Resistant Anti-Static Spiral Wrap series is produced from a conductive thermoplastic compound on a Polyethylene base. A special conductive carbon black is used for conductivity.
In addition to being flame retardant, these wraps are designed to have low electrical resistance, helping to prevent hydraulic hose and cable bundles from building up an electrical charge. Tested to: AS 2600, AS 1180.10B, AS 1180.13A, MSHA # IC-264/0 standards
Anti-Static and Fire Retardant to prevent accidental flames and sparks in critical environments
Allows bundling of multiple or single hose according to requirement
MSHA (The Mine Safety and Health Administration) certified and approved for safe usage in mines
Hose Guard
A full line of hose protection. From the industry leading Pig's Tail™ Spiral Wrap to our anti-abrasion sleeve, hose protection solution for every application and environment. Manufactured under our stringent ISO certified quality management system, we ensure consistent, quality products.
Caplugs Hose Guard parts :
Provide heavy-duty protection for hoses and cables
Increase service life of hydraulic hoses
Flexible, tough and durable
Available in multiple sizes, colors and styles
Accessories for hose wrapping and maintenance plugs
Watch>>>Essential Components for Industry
About Daemar Inc.
Daemar manages the sourcing and delivery of millions of Essential Components to the manufacturing and MRO marketplace. Industry applications are broad; from high volume assembly lines requiring design assistance and supply chain management, all the way to the simple replacement of a single component for maintenance.
follow us on LInkedIn