Modicon DIN Rail Power Supplies
Featured Product from DigiKey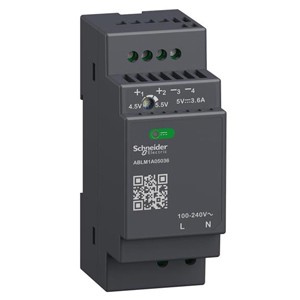 Schneider Electric's Modicon power supply range consists of modular, optimum, and universal series of regulated switch mode power supplies. They are designed to provide the direct current (DC) voltage necessary for electrical equipment applications ranging from simple machine control to complex systems requiring status contacts and battery backup options. Modicon switch mode power supplies (SMPS) provide the DC voltage necessary for automation equipment designed for industrial, commercial, and residential applications such as conveying, packaging, control, food and beverage, mining, oil and gas, and water.
Modular and optimum power supplies are primarily appreciated for their extreme compactness. These power supplies conform to EN62368-1, ENIEC61010-1/2-201, ENIEC61204-3, EN61000-6-1/2/3/4, EN61000-3-2-3, UL62368-1, UL61010-2-201/-1-201, CSAC22.2No62368-1/No61010-2-201/No61010-1 standards, and certified by CE, CUL listed/recognized, RCM, CB scheme. The Acti9 iC60 range of miniature circuit breakers are recommended for protection. Modular and optimum power supplies come equipped with a front face LED indicating the presence of DC output voltage and a QR code for access to the latest technical documentation. Thanks to their modular/compact housing, they can be installed in either enclosures or industrial panels by clipping on an omega (DIN) rail.
This generation of wide operating range universal power supplies integrates new functions and offers even more user services with ingenuity by means of function modules. These power supplies conform to UL 508, CSA C22.2 No 60950-1 standards. The GB2CD16, GB2CD12, GB2CB07, GB2CD07, GB2DB07, GB2CS07, GB2CB06, GB2CD06, GB2DB06, and GB2CS06 thermal-magnetic circuit breakers are recommended for their protection. They are equipped with an LED diagnostics indicator available in the front for instant troubleshooting. It installs on a DIN rail.
Features
Modular and optimum power supplies for 100 V to 240 V single-phase networks

Output voltage: 5 V, 12 V, 24 V, 48 V to 7 W to 145 W
Highly compact size
Wide voltage range
Fixing by screw or on omega rail

Universal power supplies for networks single/3-phase 100 V to 500 V

Output voltage: 24 V and 5 V to 15 V by converter modules 48 V/72 W to 960 W
Integrated energy reserve
Six product references from 3 A to 40 A
Fixing on omega rail
Advanced diagnostics by LED and relay contact
Integrated anti-harmonics filter
Function modules to respond to problems of network cuts, 24 VDC circuit overloads, and availability
Applications
Automotive
Material handling
Consumer packaged goods
Packaging
Material working
Hoisting
Pumping and HVAC
Water/wastewater