Low Level Multi-Point Ambient Calibration NCore
Product Announcement from Environics, Inc.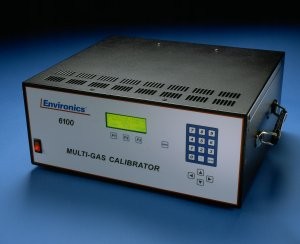 Download Full Datasheet for Series 6100 (pdf)
Series 6100
Computerized Multi-Gas Calibration System
The Environics® Series 6100 Computerized Multi-Gas Calibration System is a computer controlled, state-of-the-art instrument for dynamic multi-point gas calibration of ambient air analyzers.
The Series 6100 automatically performs zero, precision, span and multi-point calibrations using NO, NO2, SO2, CO, 03, hydrocarbons and other gases of interest. The 6100 meets all U.S. Environmental Protection Agency requirements.
The Series 6100 consists of a single chassis supporting up to 3 thermal mass flow controllers, an ozone generation module, a mixing zone, a reaction chamber for gas phase titration, and control electronics. Both in service and new Series 6100 can be optimized for low levels of ozone, down to 2 ppb repeatably at no extra cost!
Commands are entered from the front panel and displayed on a backlit 4 line by 20 character liquid crystal display. The instrument may also be remotely operated using contact closures or the RS-232 serial data interface, both are standard in the Series 6100.
The mass flow controllers are calibrated to a NIST (National Institute of Standards and Technology) traceable primary standard. The calibration data consists of a comparison of desired versus actual flow over the full dynamic range of the instrument with linear interpolation between points. Calibration data is stored in non-volatile memory and may be updated by the user with a suitable standard.
The Series 6100 ozone generator is factory calibrated using a NIST traceable ozone standard. This temperature controlled, ultra-violet (UV) based ozone generator includes a precision photo-optical feedback circuit to compensate for lamp aging effects.
The Series 6100 is available in either a standard rack mount or portable configuration.
PRODUCT FEATURES AND BENEFITS
User-friendly interactive software with plain language prompts is simple to use, reducing technician training time and virtually eliminating error.
Automatic calculation of dilution and span gas flows based on commanded concentration eliminates the need for manual computation and allows rapid transition from point to point.
Internally-stored mass flow controller calibration data improves accuracy by as much as a factor of ten and simplifies field recalibration. Mass flow controllers are factory calibrated at 11 points.
Internally-stored ozone generator calibration data insures linear, repeatable ozone generation without photometer control. Ozone generator performance meets U.S. EPA criteria for ozone transfer standards.
Ozone generator pressure compensation ensures repeatable and stable ozone generation at pressures other than the original calibration pressure.
Full, two-way RS-232 Serial Data Interface (standard) permits remote operation of the instrument including data collection, gas selection, initiation of zero, span and multi-point calibrations.
Download Full Datasheet for Series 6100 (pdf)
What can an Environics system do for you?
Do you have a question regarding an Environics system?
Are you interested in learning more?
Do you need more information regarding a custom project?
Our team would be happy to help you get the system you need!
---