Cost Savings & Repeatability for Your Gas Blends
Product Announcement from Environics, Inc.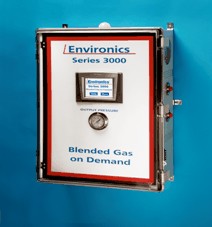 This "On Demand" gas delivery and blending system will provide cost savings and repeatability of your gaseous atmosphere.
The Environics® Series 3000 gas delivery/blending system offers on-site gas blending of 100% pure bulk gases and is configured to provide a solution to using costly premixed cylinders of gas. Unlike premixed cylinders, the Environics 3000 provides a repeatable blend of gases, using precision thermal mass flow controllers. The system offers flexibility in addressing particular processes and needs. Although two and three gas mixtures are more common, gas mixtures of more constituents can be produced. The primary benefits of the system are the stability and repeatability of the blend and the cost savings in using pure gases versus premixed cylinders as well as the repeatability of the mixture. The system will undoubtedly pay for itself because of these savings.
The main controls of the system are HMI (Human Machine Interface); color touch screen and PLC combined. A series of I/O modules connect to all the electro-mechanical devices. Ethernet connection comes standard on all S3000. We also provide a free software utility that allows you to remotely monitor and operate the instrument over an Ethernet connection. The system offers options such as remote operation, alarms, a gas humidifier and an oxygen compatible construction.
Precision mass flow controllers (MFC) are used to control the flow rate of each gas for blending. Each MFC is calibrated at 11 points on a primary flow standard traceable to NIST. The flow standard is accurate to .2% of reading. Using the 11 points of calibration data, the software of the S3000 applies linear interpolation to provide a more accurate and linear flow rate; ultimately providing a precision blend of gases.
Optional precision mass flow meters (MFM) can be installed on the outputs of the MFCs. These electronic meters monitor the flow rate of each flow controller and the PLC mathematically calculates the actual blend concentration based on the metered flows. This provides an independent check on the MFC performance. Each MFM is also calibrated at 11 points with linear interpolation applied.
The system is manufactured in a NEMA 4 wall mount enclosure, with internal electrically grounded aluminum panels for support and a clear polycarbonate door to protect the controls. Optional enclosures are available. Fitting connections and tubing are 316 stainless steel.
When actively mixing, the instrument sends the diluted gas mixture through an in-line static mixer to ensure a homogenous mix of gases. The system provides a controllable positive pressure to meet the requirements of a process downstream. The mixer can be configured to provide gas to a ballast tank, turning off and on as the pressure rises and falls in the tank. This is useful for gas conservation, when the demand for gas is sporadic or intermittent in use.
An optional visual and/or audible alarm can be installed onto the top of the instrument to alert the operator of specific fault conditions. A condition that would trigger an alarm is if the interpreted concentration from the optional flow meters falls outside a user adjustable tolerance.
PRODUCT FEATURES AND BENEFITS
---
Optional precision mass flow meters (MFM) can be installed on the outputs of the MFCs.
Flow standard is accurate to 0.2% of reading
Color touch screen and PLC combined.
Accurate to +/- 1% of the full scale.
Repeatable to +/-0.05% of full scale
Optional visual and/or audible alarm
We are a family-owned company, founded in 1986 and incorporated in the State of Delaware. As of April 2011, we are a Women Owned business, certified through the Woman Owned Small Business Program run by the United States SBA. Our five-year projections show continued growth through the introduction of new products and product innovations. All service is handled factory direct. Sales are handled direct and by selected manufacturers representatives and distributors worldwide.
At Environics, we are dedicated to customer service before, during and after your system is built. We stand by our systems and believe in building long-term relationships with our customers.
What can an Environics system do for you?
Do you have a question regarding an Environics system?
Are you interested in learning more?
Do you need more information regarding a custom project?
Our team would be happy to help you get the system you need!
---