Band Saw Blade Welder
Featured Product from Grob, Inc.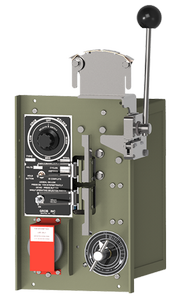 Band Saw Blade Welder
Welds 1/8" - 1" wide blades
Carbon Steel & Bi-Metal
Includes filing fixture and T-10 saw blade cut-off tool.
RWA Machine Model - 220v/440v Single Phase
RWA Bench Model - 220v Only
Optional Equipment
Grinder for Butt Welder
Stand for Welder (Bench Model )
Stand Casters (Bench Model)
Extra T-10 Cut-off Tool
Extra Filing Fixture
Drawings and Manuals
FAMILY OWNED & OPERATED SINCE 1929
QUALITY WE ARE PROUD TO PUT OUR NAME ON
Designing, producing, and selling the finest band saws and cold rolled products on the market.
COLD ROLLED
Save time and money by creating parts from bar stock. Choose from over 2100 existing profiles. If we don't currently have the profile you need, custom profiles are also available and are tooled quickly.
BAND SAWS
GROB's current line up meets and exceeds those demands by providing a range of products that match any metalcutting application. GROB saws are designed to deliver dependable operation year after year.