Modular Syringe Pump - Microlab 600
Featured Product from Hamilton Company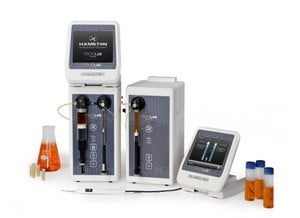 The Microlab 600 is a modular syringe pump built for liquid handling tasks when the job is too much for a syringe or pipette, but not enough to justify full liquid handling robots.
The Microlab 600 offers accuracy and precision that outperforms class A glassware while utilizing a graphical user interface designed to quickly and easily dilute and dispense liquids.
Every laboratory has tasks that are too small to automate and too large to reliably accomplish by hand. The Microlab 600 is a semi-automated liquid handler designed specifically for these "in-between" applications. The Microlab 600 increases throughput and consistency while reducing cost and wasted reagent.