Alpha® Shears
Featured Product from Inductotherm Group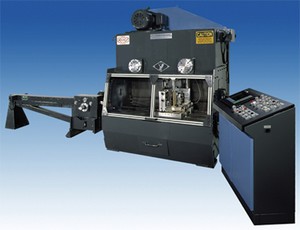 Alpha® flying shears provide patented double cut die set which enables producers to cut dimple free ready for market products directly off the mill. Thermatool offers a full range of Alpha® flying shears for nearly all tube cutting applications.
Alpha Mach 1: 3/8" to 2" OD with a max wall of .125"
Alpha Mach 2: 1/2" to 3" OD with a max wall of .160"
Alpha Mach 3: 1" to 5" OD with a max wall of .250
Special Applications:
• Alpha® Ultra High Speed Shear for 2" single cut for thin wall tubing up to 1000FPM
• Alpha® Large Diameter Hydroform Tube cut off for OD's up to 6-5/8"
Tube materials which can be cut include mild steel, high tensile carbon steels, boron steel, austenitic and ferritic stainless steel, aluminum, brass and copper.