Anti-Vibration Grommets Dampens Noise Too
Featured Product from Keystone Electronics Corp.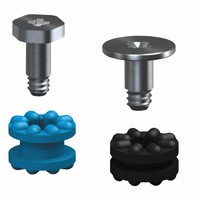 … A newly developed series of anti-vibration grommets specifically engineered for electrical insulation, mechanical damping and noise suppression in office or lab equipment is now available from Keystone Electronics Corp.
Engineered to isolate sensitive instrumentation from unpredictable vibration and shock, these new devices feature "fingers" which flex as needed to dampen unwanted noise or vibration. Incorporated are special shoulder screws to provide correct spacing which allow screws to be fully tightened down.
Designed to accommodate panels from .031" to .125" thick, these insulating anti-vibration grommets are manufactured from durable EPDM rubber in black or blue color. The mating, custom fitted shoulder screws are made of Nickel plated steel in 6-32 and M3 threads. Supplied as unassembled sets (Insulator and Screw), grommet availability is from stock through Keystone's global distribution network. Online ordering is accommodated.
For additional specifications and details on the entire offering of Grommets, Bumpers and Bushings and a complete overview of the impressive Keystone interconnect and electronic hardware family please contact the Keystone Sales department at 800-221-5510; fax at 516-328-1080; E-mail kec@keyelco.com or visit www.keyelco.com.
Keystone is ISO-9001:2015 certified and RoHS, REACH compliant with USA headquarters and offices in Canada, Europe, Australia and Asia.