CM-5 Spectrophotometer - Bench-top
Featured Product from Konica Minolta Sensing Americas, Inc.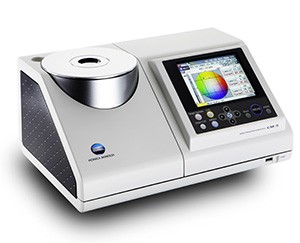 An advanced all-in-one system, the CM-5 Spectrophotometer is built to measure the color and appearance of opaque, transparent, and translucent samples small to large in size. Its versatility and advanced capabilities, including automatic calibration and industry-specific formulas, are ideal for measuring the color and appearance of solids, liquids, pastes, powders, pills, and granules to meet application needs more efficiently.
The CM-5 Spectrophotometer can be used with compatible software or as a standalone instrument to display measurement data, graphs, and colorimetric plots.
Konica Minolta Sensing spectrophotometers are compatible with SpectraMagic NX quality control software to store measurement results and provide a more comprehensive color analysis, as well as Colibri Color Management software to specify, formulate, evaluate, and coordinate brand and product colors throughout the supply chain.
Geometry: Reflectance: di:0°
Measurement area: Reflectance: Ø30 mm
Inter-instrument agreement: ΔE*ab 0.2