CS-200 Color and Luminance Meter
Featured Product from Konica Minolta Sensing Americas, Inc.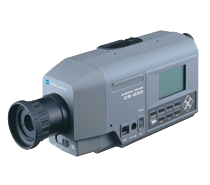 The CS-200 accurately measures luminance and chromaticity of a diverse range of light emitting products, including large plasma displays, compact LCDs and LEDs, outdoor screens, high pressure lamps, and instrument panels. It is compact, lightweight and designed for hand-held operation.
The CS-200 features 40 sensors and performs calculations using the spectral sensitivity characteristics (color-matching functions) corresponding to the sensitivity of the human eye. With this newly developed spectral fitting method, tristimulus values (XYZ for red, green, and blue) with a far higher accuracy than those of conventional tristimulus colorimeters can be obtained, providing excellent results.
Any light source can be measured over a wide range of luminance levels from a low luminance of 0.01 cd/m² through high luminance of 20,000,000 cd/m² (with measuring angle of 0.1°). With a selectable measuring angle, users can easily select the optimum measuring angle according to the application (1°, 0.2°, or 0.1°)
Features:
Portable, lightweight, compact and battery powered
Easy to use and affordable
Selectable measuring range
Measure both luminance and chromaticity
Auto mode to determine measurement speed
Can be used for both low and high luminance
Measuring angle switching
CS-S10w data management software included as a standard accessory

Play CS-200 Color and Luminance Meter Video on YouTube