Compact, Lightweight Chroma Meter
Featured Product from Konica Minolta Sensing Americas, Inc.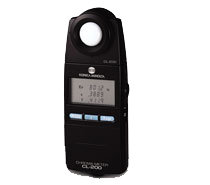 The Chroma Meter CL-200A is a compact, lightweight, handheld instrument for measuring the color and illuminance of light sources, including LED and EL light sources, and displaying the results in terms of tristimulus values, illuminance, chromaticity, dominant wavelength, excitation purity, correlated color temperature, and difference values from a target. It was designed to fit into the palm of your hand, and is battery operated making it easily portable.
The CL-200A has sensors that closely match the CIE defined color-matching functions which are intended to correspond to the response of the human eye to enable precise color measurement. Depending on the application, the measurement results can be displayed in various color notations.
The CL-200A is a highly-effective tool for measuring the color temperature of white LEDs. It can measure both the chromaticity from the phosphor and also inspect the output light quality of the final white LED lamp assembled from multiple white LED's.
The receptor head can be detached and then connected to the main body using a normal LAN cable, making it easy to install the sensor in an inspection system. Multi-point measurements can be completed using up to 30 receptor heads. A user-friendly calibration function makes it easy to compare measured and sample measurements.
Using the included Data Management Software CL-S10w, measurement data can simply be transferred to Excel. Conversely, the instrument can be connected directly to a PC and controlled using a computer. This software is also equipped with a LED ranking function, JIS ranking function, multi-point measurements and user calibration. Correlated color temperature can also be determined using the Japanese Industrial Standard (JIS) calculation ranking functions.
Common applications for the CL-200A include but are not limited to, evaluating light distribution of LED illumination modules or fixtures, lighting production and adjustment, LED billboard development and maintenance, color-viewing cabinet maintenance, measuring projector light sources, and utilizing the instrument as a photographic color meter.
Features:
Portable, lightweight, compact and handheld
Detachable receptor head
Simultaneous measurements
Ideal for white LEDs
Can be used to measure any light sources
LED ranking function
Calibration function
Easy data transfer
Optional PC controllability

Play Compact, Lightweight Chroma Meter Video on YouTube