SWITCHABLE LED PHOTOELECTRIC SENSORS
Featured Product from Locon Sensor Systems, Inc.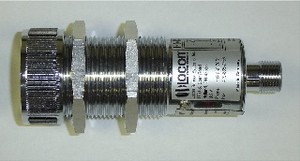 SWITCHABLE LED PHOTOELECTRIC SENSORS
Designed for light sensitive applications requiring a greater sensing distance. The customer controlled LED function can be activated for easy maintenance or deactiveated during light critical operation. Darkroom applications are an ideal example of usage. The sensors are available in threaded M18 or M30 diameters, each featuring an M12 quick disconnect plug. Sensing ranges vary from 1,000mm to 2,000mm.