Miniature 3-Position Rotary Actuator
Featured Product from Rotomation, Inc.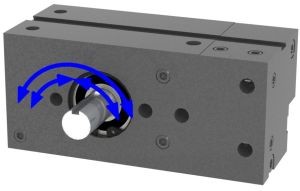 Applications include:
Sorting
Diverters
Parts positioning or re-orienting
Options available to tailor the A032 to your application include:
Micrometer thread rotation adjuster
Magnetic sensors
Various shafts
Port locations
Or order the unit with a vacuum feed through the shaft with a fixed port on the rear. Optional NPT or other features can be added to the shaft for attaching a vacuum cup for picking up and rotating parts.
There is a lot of flexibility in the spacing and orientation of the three positions; the mid position does not have to be half way, and the outer positions can be clocked anywhere to suit, with a maximum of 190 degrees of total rotation.
The shaft also accepts our Shaft Mounting Adapter to make it easy to attach a variety of loads.