Pneumatic Indexing Drive
Featured Product from Rotomation, Inc.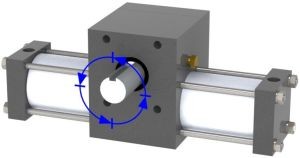 Rotomation's Indexing Actuators are unique pneumatic drives that are simple, robust, and low in cost. They require only a standard four way valve to operate. A wide variety of optional features are available so the indexer can be configured precisely to the engineer's needs.
Cycle rates over 100 per minute
Shafts from 3/8 inch to 1 inch diameter
Torque from 12 inch pounds to 410 inch pounds
Steps from 12 to 360 degrees