PSC1 Programmable Safety Controller
Featured Product from Schmersal Inc.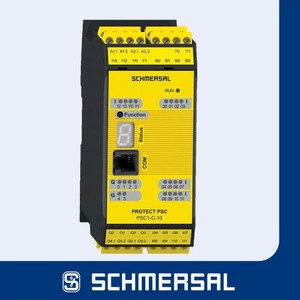 The PSC1 is a modular and freely programmable compact safety controller for safe signal processing of safety sensors and switches.
The main PSC1 module can expand with up to 2 expansion modules to offer 64 I/O. Safe Master to Master communication (SMMC) is possible between 4 master modules while maintaining PLe to ISO 13849 and SIL3 to IEC 61508.
System options include an integrated universal communications interface for safe and auxiliary data exchange over various network protocols, such as EthernetIP, EtherCAT, ProfiNet, ProfiBus, Profisafe/Net, and Safety Over EtherCAT.
Modules can also be configured for safe drive monitoring (SDM) for 1 or 2 axis. SMMC capability would allow safe monitoring for a maximum of 8 axis in a system. Monitoring functions include options such as safe torque off (STO), safe stop 1 (SS1) for Stop Category 1, safe stop 2 (SS2) for Stop Category 2, safe limited speed (SLS), safe direction (SDI), safe speed monitoring (SSM) and Safely-Limited Increment (SLI). Encoders for monitoring may operate using TTL, SIN/COS, SSI (Gray code / binary code), or HTL.
In addition to freely programing the safety functions, safe outputs can easily be reprogrammed to serve as safe inputs on the expansion modules to easily adapt to specific application requirements. The 2A semiconductor safety outputs on the main module can also be programmed to be either p-switching or p-/n-switching.
Written program can be downloaded to the PSC1 either by computer interface or through a memory card on selected modules. Memory card options allow for quick programming of identical systems.