Laminated Shims
Featured Product from SPIROL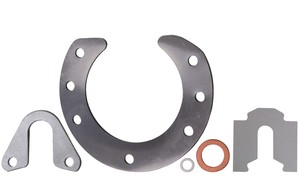 SPIROL produces precision shims with or without a tool to meet lead-time and total cost considerations. Shims are thin pieces of material often used as compensators to fill in small gaps between objects aligning parts, reducing wear and absorbing tolerances between mating components. Shims can also significantly reduce manufacturing time and costs as they eliminate the need for each component to be precision machined in order to achieve the proper fit and function of the total assembly.
At SPIROL, we offer precision shims in a variety of materials including carbon steel, stainless steel, aluminum, brass and copper. Each shim material offers specific benefits for our customers' specific applications including corrosion resistance, wear resistance and more, making our shims ideal in many industries.
SPIROL shims are available in single and laminated configurations. In addition, most secondary processes are performed entirely in-house affording complete control over lead-time and quality. Many secondary bundling and packaging options are available to facilitate ease of assembly considerations.
We specialize in complicated parts in small quantities; yet are fully equipped to manufacture low, medium and high volumes.